Gerakan Peduli Sesama dan Bakti Sosial Relawan Covid-19 Teknik Mesin Universitas Balikpapan di Kelurahan Karang Rejo Kota Balikpapan
Keywords:
pengabdian masyarakat, relawan, bakti sosial
Abstract
Gerakan peduli sesama dan bakti sosial adalah salah satu program pengabdian masyarakat yang dilaksanakan oleh dosen dan mahasiswa Program Studi Teknik Mesin Universitas Balikpapan sebagai bentuk kepedulian kita terhadap masyarakat dan lingkungan ditengah pandemic covid-19. Pelaksanaan kegiatan Gerakan Peduli Sesama dan Bakti Sosial oleh Relawan Teknik Mesin merupakan bagian dari tri dharma dan program kerja dari Universitas Balikpapan untuk meningkatkan pengetahuan dan membantu  masyarakat tentang upaya memutus mata rantai penularan Covid-19. Kegiatan ini terlaksana pada Kelurahan Karang Rejo Kecamatan Balikpapan Tengah tepatnya RT. 31, 32, 46, 48 dan 62 dengan metode pengabdian berupa kegiatan penyuluhan, pembagian sabun cuci tangan, pembagian masker dan sembako serta penyemprotan disenfektan dilingkungan pemukiman warga.  Hasil menunjukkan adanya respon positif pemerintah serta partisipasi aktif masyarakat yang tinggi.
Downloads
Download data is not yet available.
References
Djalante R, Lassa J, Setiamarga D, Sudjatma A, Indrawan M. (2020). Review and analysis of current responses to COVID-19 in Indonesia : Period of January to March 2;(January).
Cucinotta, D., & Vanelli M. (2020). WHO declares COVID-19 a pandemic. Acta bio-medica Atenei Parm.
Keputusan presiden (Keppres) no. 11 tahun 2020 (2020) tentang penetapan Kedaruratan Kesehatan masyarakat Corona Virus Disease 2019.
Handayani, D., Hadi, D. R., Isbaniah, F., Burhan, E., & Agustin H.(2020). Corona Virus Disease 2019. Jurnal Respirologi Indonesia, 40(2), 119-129.
Ha BTT, Quang LN, Mirzoev T, Tai NT, Thai PQ, Dinh PC. (2020). Combating the COVID-19 epidemic: Experiences from Vietnam. Int J Environ Res Public Health, 17(9).
Saputra, M., Arsyi, M., Nurhanifah, N., Octavia, S. N., & Pratomo H. (2020). Evaluasi Pedoman Penanganan Cepat Medis dan Kesehatan Masyarakat tentang Coronavirus Disease (COVID-19) di Indonesia. Jurnal Ilmu Keperawatan Indones, 10(02), 8-17.
Hernández-Padilla JM, Granero-Molina J, Ruiz-Fernández MD, Dobarrio-Sanz I, López-Rodríguez MM, Fernández-Medina IM, et al. (2020). Design and psychometric analysis of the COVID-19 prevention, recognition and home-management self-efficacy scale. Int J Environ Res Public Health, 17(13):1–14.
Notoatmodjo, S. (2020). Promosi Kesehatan Masyarakat Teori dan Aplikasi. Jakarta .
Kemenkes RI. (2020). Pedoman Pencegahan dan Pengendalian Coronavirus Disease (COVID-19).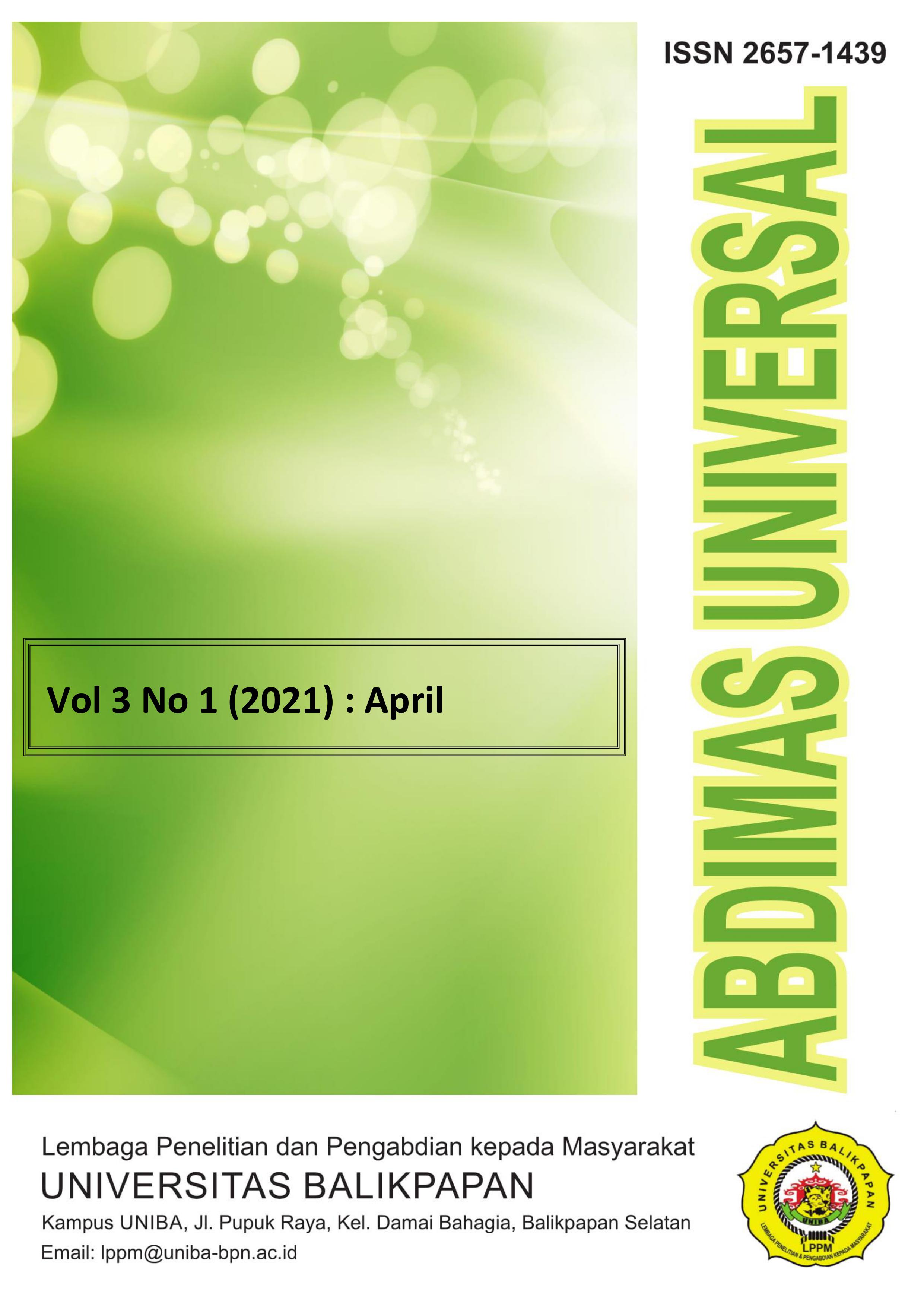 Downloads
How to Cite
Suherna, Arifin, K., & Pongky, P. (2021). Gerakan Peduli Sesama dan Bakti Sosial Relawan Covid-19 Teknik Mesin Universitas Balikpapan di Kelurahan Karang Rejo Kota Balikpapan. Abdimas Universal, 3(1), 38–43. https://doi.org/10.36277/abdimasuniversal.v3i1.111