Pelatihan Media Pembelajaran Aplikasi Quizizz Siswa Sekolah Dasar pada Masa Pandemi Covid-19
Keywords:
learning media, application, Quizizz
Abstract
This PkM training activity aims to provide training on how to utilize technology, namely the use of free online gamification features to assist the teaching and learning process outside the classroom using the Quizizz application. The implementation method used is socialization, training implementation and evaluation. The subject of this training was attended by 15 sixth grade students. The results show that the application can increase student learning concentration and can increase enthusiasm in learning in the midst of the Covid-19 pandemic so that online learning feels more fun and students can learn while playing through this Quizizz application. This training also has a significant impact on the ability of teachers to develop learning evaluation instruments using the Quizizz application.
Downloads
Download data is not yet available.
References
Aini, Y. I. (2019). Pemanfaatan Media Pembelajaran Quizizz Untuk Pembelajaran Jenjang Pendidikan Dasar Dan Menengah Di Bengkulu. Jurnal Kependidikan, 2(25), 1–6.
Bulger, M & Davison, P. (2018). The Promises, Challenges, and Futures of Media.
Dewi, T. A. P., & Sadjiarto, A. (2021). Pelaksanaan Pembelajaran Daring Pada Masa Pandemi Covid-19. Jurnal Basicedu, 5(4), 1909–1917.
Fazriyah, N., Cartono., Awangga, R.M. 2020. Pelatihan Aplikasi Pembelajaran Quizizz Di Sekolah Dasar Kota Bandung. Ethos: Jurnal Penelitian dan Pengabdian Masyarakat, 8(2).
Hamdani, M. 2011. Strategi Belajar Mengajar. Bandung: CV Pustaka Setia.
Mei, S., Ju, S., & Adam, Z. (2018). Implementing Quizizz as Game Based Learning in the Arabic Classroom. European Journal of Social Sciences Education and Research, 12(1). doi: 10.26417/ejser.v12i1.p208-212.
Nugroho, D.Y.Komilie, S. Peggy, S.T. Maria, M.Y.A. Christie, L.R. (2019). Pemanfaatan Teknologi Dalam Pendidikan: Penggunaan Fitur Gamifikasi Daring Di YPK Penabur Bandarlampung. Prossiding vol (2).
Rulyansah, A. (2022). Pelatihan Pengembangan Soal HOTS dengan Memanfaatkan Quizizz untuk Guru Sekolah Dasar Pedesaan. Indonesia Berdaya, 3(1): 165-172. https://doi.org/10.47679/ib.2022195.
Salsabila, U. H., Habiba, I. S., Amanah, I. L., Istiqomah, N. A., & Difany, S. (2020). Pemanfaatan Aplikasi Quizizz Sebagai Media Pembelajaran Ditengah Pandemi Pada Siswa SMA. Jurnal Ilmiah Ilmu Terapan Universitas Jambi|JIITUJ|, 4(2), 163–173. https://doi.org/10.22437/jiituj.v4i2.11605.
Sanjaya, W. (2008). Strategi Pembelajaran Berorientasi Standar Proses Pendidikan . Jakarta: Prenada Media.
Suharsono, A. (2020). The Use of Quizizz and Kahoot! In The Training for Millennial Generation. Journal, International Education, Indonesian, 4(2), 332–342.
Sukiyanto & Tsalitsatul, M. (2019). Pendampingan Kegiatan Phonological Awareness dan Vocabulary di Taman Posyandu (Tapos) Melati Desa Tunggul Paciran Lamongan. J-Abdipamas: Jurnal Pengabdian pada Masyarakat. 3(1). 139-147.
Sun'iyah, S. L. (2020). Media Pembelajaran Daring Berorientasi Evaluasi Pada Mata Pelajaran PAI di Tingkat Pendidikan Dasar. DAR EL-ILMI : Jurnal Studi Keagamaan, Pendidikan Dan Humaniora, 7(1), 1–18.
Talkah. (2021). Efektivitas Pembelajaran Menyengankan Dengan Aplikasi Quizizz Di Tengah Pandemi Covid-19. Attaqwa: Jurnal Ilmu Pendidikan Islam. 17(1).
Zhao, F., (2019). Using Quizizz to Integrate Fun Multiplayer Activity in the Accounting Classroom. International Journal of Higher Education. 8(1). doi:10.5430/ijhe.v8n1p37.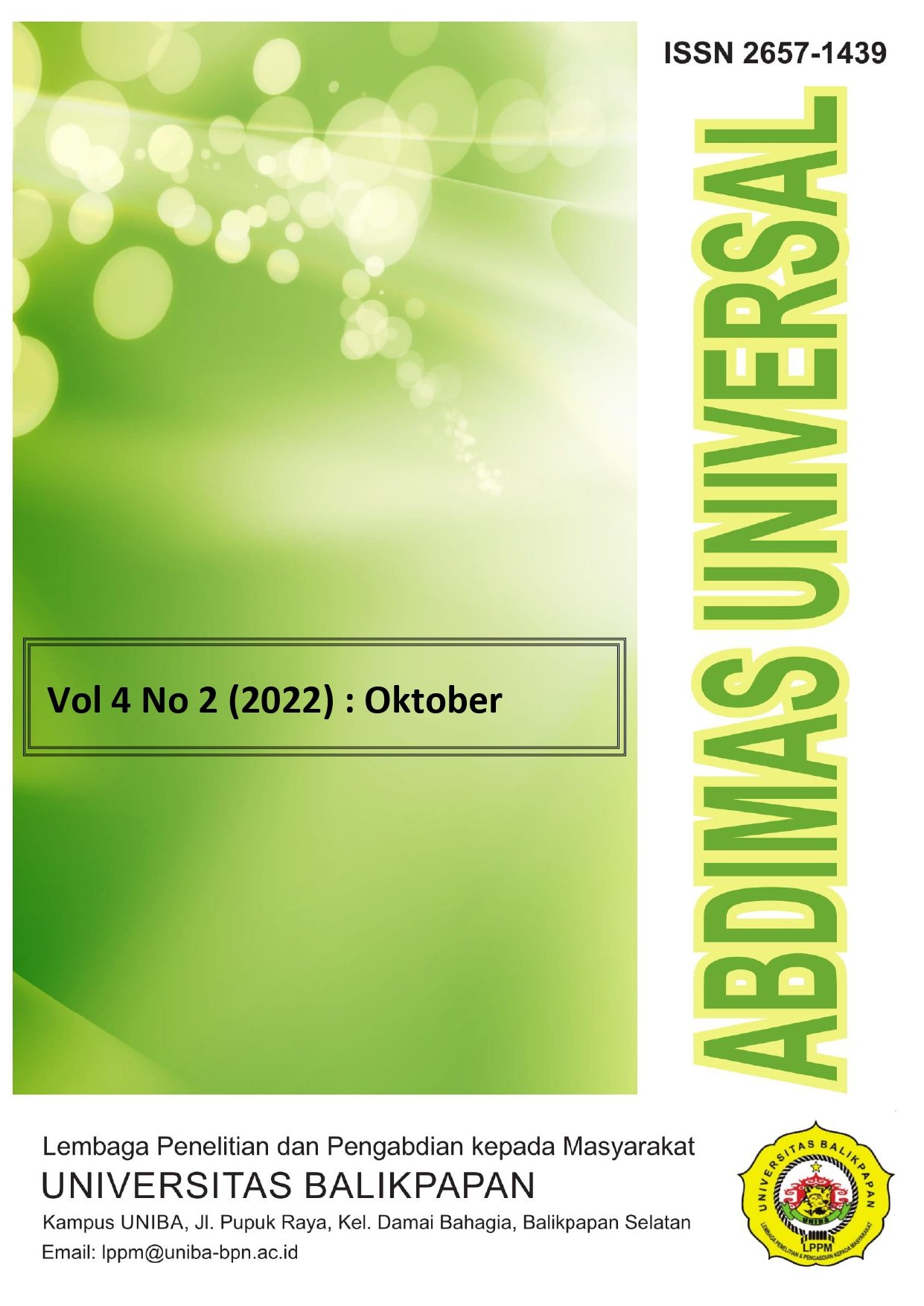 Downloads
How to Cite
Sukiyanto, S., Maulidah, T., Anggreini, D., Agustito, D., & Lestari, D. N. (2022). Pelatihan Media Pembelajaran Aplikasi Quizizz Siswa Sekolah Dasar pada Masa Pandemi Covid-19. Abdimas Universal, 4(2), 327–333. https://doi.org/10.36277/abdimasuniversal.v4i2.173