Pendidikan Pengetahuan Tentang Gizi dan Kesehatan Gigi & Mulut pada Orang Tua Murid TK Aisyiah Joyosuran, Surakarta
Keywords:
parents, kindergarten , nutrition, dental and oral health
Abstract
Aisyiyah Joyosuran Kindergarten is one of the kindergartens located on Jl. Cikarang No.22, Gabudan RT 01 RW 08 Joyosuran, Pasar Kliwon District, Surakarta City, Central Java. Children can grow up to be healthy and smart through the process of growth and development. Nutrition has the most important effect on growth. Based on Riskesdas data (2018), the proportion of daily tooth brushing behavior of people aged three years and over is 94.7%, but the proportion who brush their teeth properly is only 2.8%. This is a problem because one of the effective prevention methods against the occurrence of dental and oral disease is through the act of brushing teeth. The purpose of this service is to carry out the Community Service component of the Tri Dharma of Higher Education. The benefit of this service is to increase knowledge education about nutrition and dental & oral health for parents of Aisyiyah Joyosuran Kindergarten students, Surakarta. The service method is lectures and training on knowledge about nutrition and dental & oral health. The target audience was 84 parents of Aisyiah Joyosuran Kindergarten students. The results of the service show that the activities run smoothly. Participants are expected to be able to provide education about good nutrition and dental & oral health to their children while providing nutrition according to the RDA according to the Ministry of Health and maintenance of dental and oral health.
Downloads
Download data is not yet available.
References
Andyca, F. (2012). Faktor-faktor yang Berhubungan dengan Status Gizi Pada Anak Autis di Tiga Rumah Autis Dan Klinik Tumbuh Kembang Kreibel Depok.
Astuti, P. P., Haryani, W. W., & Sutrisno, S. (2019). Promosi Kesehatan Gigi Dan Mulut Menggunakan Media Flash Card Dan Leaflet Terhadap Tingkat Pengetahuan Kesehatan Gigi dan Mulut Siswa Sekolah Dasar. http://eprints.poltekkesjogja.ac.id/712.
Devi, N. (2012). Gizi anak sekolah. Jakarta: Buku Kompas.
Dewi, I. G. A. C., & Wirata, I. N. (2018). Gambaran Karies Gigi Sulung Dan Tingkat Pengetahuan Orang Tua Terhadap Pemeliharaan Kesehatan Gigi Dan Mulut Pada Anak Pra Sekolah Di TK Sila Chandra III Batubulan Tahun 2017. Jurnal Kesehatan Gigi (Dental Health Journal), 6(1), 22-28.
Kantohe, ZR, dkk. (2016). Pebandingan Efekivitas Pendidikan Kesehatan Gigi Menggunakan Media Vidio dan Flip Chart Tehadap Peningkatan Pengetahuan Kesehatan Gigi dan Mulut. Fakultas kedokteran. Jurnal eGiGi (eG), 4(2), 47.
Kartasapoetra dan Marsetyo. (2008). Ilmu Gizi Korelasi Gizi dan Produksi Kerja. Jakarta: Rineka Cipta.
KBBI, 2021, Simulasi, Kamus Besar Bahasa Indonesia (online), https://kbbi.web.id/simulasi.
Kementrian Kesehatan. Laporan Nasional Riskesdas tahun 2018. Jakarta: Kemenkes RI.
Mu'awanah. (2011). Strategi Pembelajaran Cetakan 1. Kediri: Stain Kediri Press.
Muscari, M.E. (2005). Panduan belajar keperawatan pediatric. Jakarta: EGC Reluga, T.C., 2010. Game theory of social distancing in response to an epidemic. PLoS computational biology, 6(5).
Notoatmodjo, S.(2007). Pengantar pendidikan dan perilaku kesehatan. Yogyakarta: Andi Offset.
Papilaya, E., Zuliari, K., Juliatri. (2016). Perbandingan Pengaruh Promosi Kesehatan Menggunakan Media Audio dan Media Audiovisual terhadap perilaku kesehatan gigi dan mulut siswa SD. Jurnal e-GiGi (eG). 4(2).
Potter, P.A., & Perry, A.G. (2006). Clinical nursing skills and techniques (3rd ed.). St. Louis: Mosby Company.
Saptiwi, B., Risya Cilmiaty, A. R., Susanti, W., Dirgahayu, P., Prayitno, A., & Subiyantoro, P. (2021). Pendidikan Kesehatan tentang Personal Hygiene dan Pemeriksaan Kecacingan pada Anak Berkebutuhan Khusus di SLB Anugerah, Colomadu, Karanganyar. Abdimas Universal, 3(1), 1-7.
Saputra, W dan Nurrizka., RH. 2012. Faktor Demografi dan Risiko Gizi Buruk dan Gizi Kurang. Jurnal Kesehatan, 16(2).
Sediaoetama, A.D., (2010). Ilmu Gizi. Jakarta: Dian Rakyat.
Zulfa, F., dan Hidayanti, L. (2009). Analisis Keterkaitan Faktor Keluarga Terhadap Status Gizi Balita (BB/TB) di Kecamatan Karangnunggal Kabupaten Tasikmalaya. Journal. Undip. Semarang.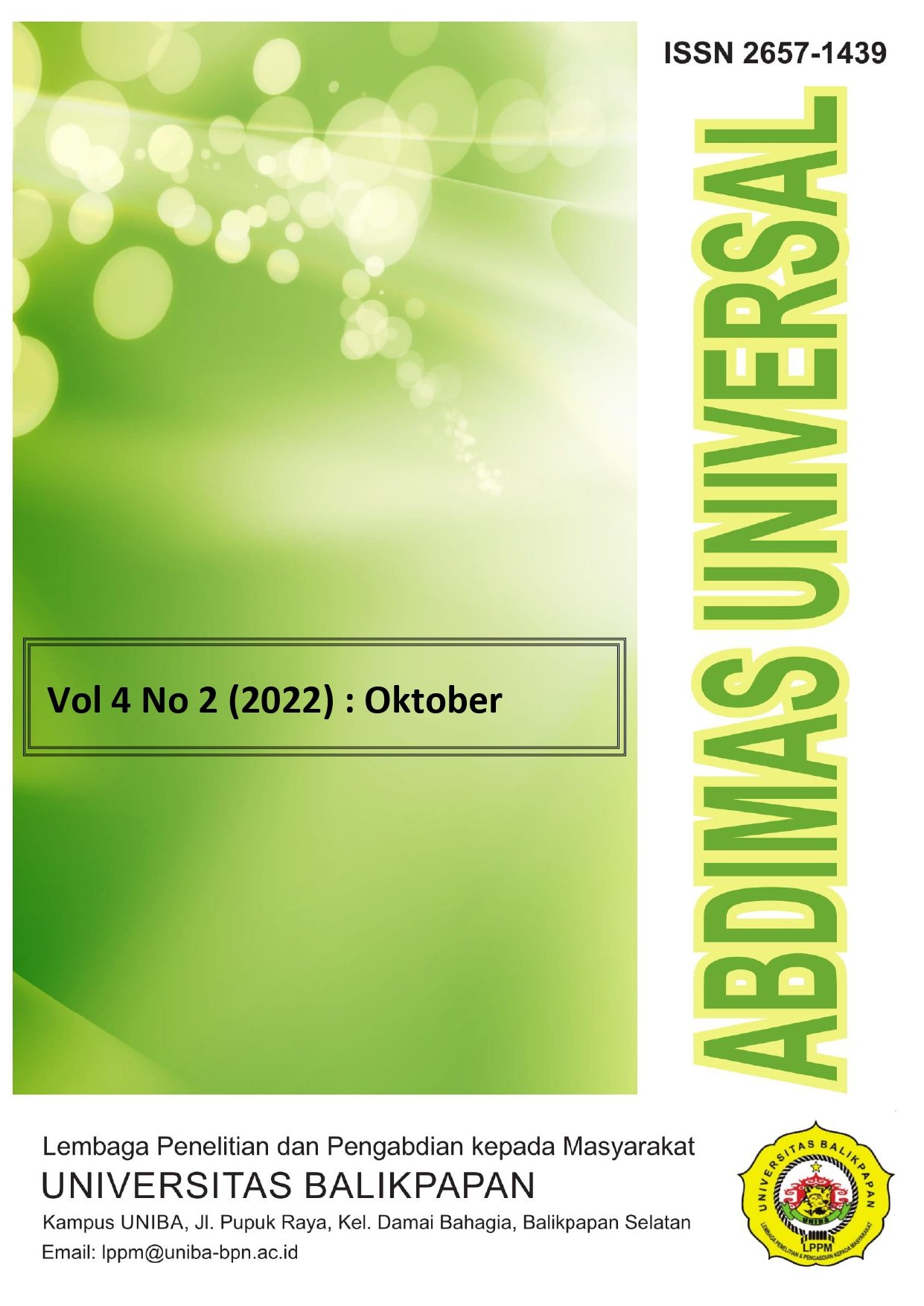 Downloads
How to Cite
Susanti, W., Cilmiaty A.R, R., Saptiwi, B., Prayitno, A., Pujiyati, A., Wardani, M. M., T. R, F., Bimacahya, N. M., Wardana, S., & Heryadi, A. T. (2022). Pendidikan Pengetahuan Tentang Gizi dan Kesehatan Gigi & Mulut pada Orang Tua Murid TK Aisyiah Joyosuran, Surakarta . Abdimas Universal, 4(2), 314–319. https://doi.org/10.36277/abdimasuniversal.v4i2.235