Produksi Jamu Beras Kencur Sebagai Peningkatan Perekonomian Mahasiswa Melalui Tekno Pangan
Keywords:
Training , Production, Jamu Beras Kencur, Economy, Food Techno
Abstract
The training on the production of herbal rice kencur is a simple training, with a small capital but has big benefits. And the herbal rice kencur has very good benefits for health. The students of the Indonesian Bible Institute are students who come from various cities in Indonesia, even herbal rice kencur is something new for them. The training method used is the delivery of materials and direct assistance from manufacture to marketing. The production of herbal rice kencur is very attractive to students, it can be seen from the conclusion of the questionnaire that became the evaluation material. The results showed: 1) The training on the production of herbal rice kencur was very beneficial for the participants, 2) Besides being easy and cheap to manufacture, the production of herbal medicine for rice kencur has a good market and many enthusiasts, 3) The profits from the production of herbal medicine for rice kencur are very promising, 4) The manufacture of herbal rice kencur can open up personal business and employment opportunities for people who are in economic difficulty. 5) Input to the Joshua Ministry and to the Indonesian Gospel Institute to continue to produce herbal rice kencur production activities to equip students.
Downloads
Download data is not yet available.
References
Dewi, R. K., & Caidhani, C. N. (2017). Design Jaringan Komputer Kedai Jamu Beras Kencur. Joeict (Jurnal Of Education And Information Communication Technology), 1(1), 23-29.
Hadiyati, Fatkhurahman, & B., S. (2017). Pelatihan Manajemen Penulisan Karya Tulis Ilmiah Bagi Tenaga Pendidik di SMP N 3 Kampar Kiri Tengah. Dinamisia -Jurnal Pengabdian Masyarakat, 1(1), 122-128.
Hasibuan, Y. A. P. (2016). Uji waktu perdarahan perasan Kencur (Kaemferia Galanga L) Dibanding jamu beras kencur pada mencit jantan (Strain Balb-c). Universitas Jember.
Herbie, T. (2015). Kitab Tanaman Berkhasiat Obat: 226 Tumbuhan Obat Penyembuh Penyakit dan Kebugaran Tubuh. Octopus Publishing House.
Hidayah, N. (2018). Kajian Formulasi, Karakteristik Fitokimia dan Sensori Es Krim Jamu Tradisional Beras Kencur. PROFESI (ProfesionalIslam) Media Publikasi Penelitian, 15(2).
Huda, M. (2015). Faktor-faktor yang Berhubungan dengan Jumlah Bakteri Pada Jamu Beras Kencur Yang Dijual di Pasar Tradisional Kota Bandar Lampung,. Jurnal Analis Kesehatan, 4(2), 436-445.
Ife, Ji., & Tesoriero, F. (2008). Community Depelovment. Terjemahan Sastra Manullang. Jakarta: Pustaka Pelajar.
Judoamidjojo, R. M., Sa'id, E. G., & Hartoto, L. (n.d.). 18 Biokonversi. Insitut Pertanian Bogor: Bogor.
Karyono. (2010). Pemanfaatam Museum Sebagai Media Pembelajaran Untuk Meningkatkan Pemahaman Siswa Terhadap Materi Prasejarah Bagi Guru-Guru SMA Kota Semarang. Jurnal Abdimas, 14(1), 1-7.
Mukhtar, A. (2016). Identifikasi cemaran Bacillus dan Khamir pada jamu gendong "beras kencur dan kunir Asam" di pasar gede Kota Solo. Universitas Muhammadiyah Surakarta.
Nugraha, N. M. A., Sutrisno, A. D., & Nurmalinda, E. (2020). Jamu Beras Kencur As A Bussiness Opportunities In South East Asia. Pasundan University, Bandung. Conference Proceeding of One Asia 2.2020-ISBN: 978-602-0942-37-7.
Nurdian, Y., & Wahyuni, R. E. (2020). Pemberdayaan Usaha Mikro Minuman Jamu Beras Kencur Melalui Pasar Digital di Ranuklindungan, Pasuruan. DIKEMAS: Jurnal Pengabdian Kepada Masyarakat. ~ISSN: 2581-1932, 4(2).
Priambodo, N. S. (2015). Perancangan Komunikasi Visual Media Promosi Minuman Jamu dalam Kemasan Mustika Ratu (Re Design Kemasan dan Media Promosi Pada Produk Gula Asam, Kunir Asam dan Beras Kencur Mustika Ratu dengan Pendekatan Komunikasi Pemasaran Terpadu). Institut Seni Indonesia Yogyakarta.
Purnomo, Joko, T., & D, N. A. Y. (2016). Hubungan Tingkat Pengetahuan Hygiene Dengan Keberadaan Escherichia Coli Pada Jamu Tradisional (Beras Kencur) Di Mangkang Semarang. Jurnal Kesehatan Masyarakat (E-Journal), 4(5), 109-118.
Rohiman, T. (2018). Cemaran Mikrobiologis Serta Identifikasi Escherichia Coli Pada Jamu Kunyit Asem dan Beras Kencur yang Dijajakan di Pasar Wage Kota Purwokerto. Universitas Muhammadiyah Purwokerto.
Shabira, A. S. (2017). Proses produksi es krim beras kencur sebagai upaya diversifikasi jamu. Universitas sebelas Maret Suarakarta.
Udin, A. R. A. (2002). Perencanaan dan Pembuatan Mekanisme Alat Pemeras Jamu Beras Kencur. Universitas Jember.
Utamiminingsih. (2019). Pelatihan Ecoprint Bagi Kader PKK di Desa Tegalweru Kecamatan Dau Kabupaten Malang. . . Jurnal Abdimas, 6(1), 28-31.
Widhianto, K. (2014). Peranan Strategi Pemasaran dalam Upaya Peningkatan Penjualan Produk Minuman Beras Kencur Pada Perusahaan Jamu "Rasa Echo" Di Kecamatan Jebres, Kota Surakarta. Universitas Muhammadiyah Surakarta.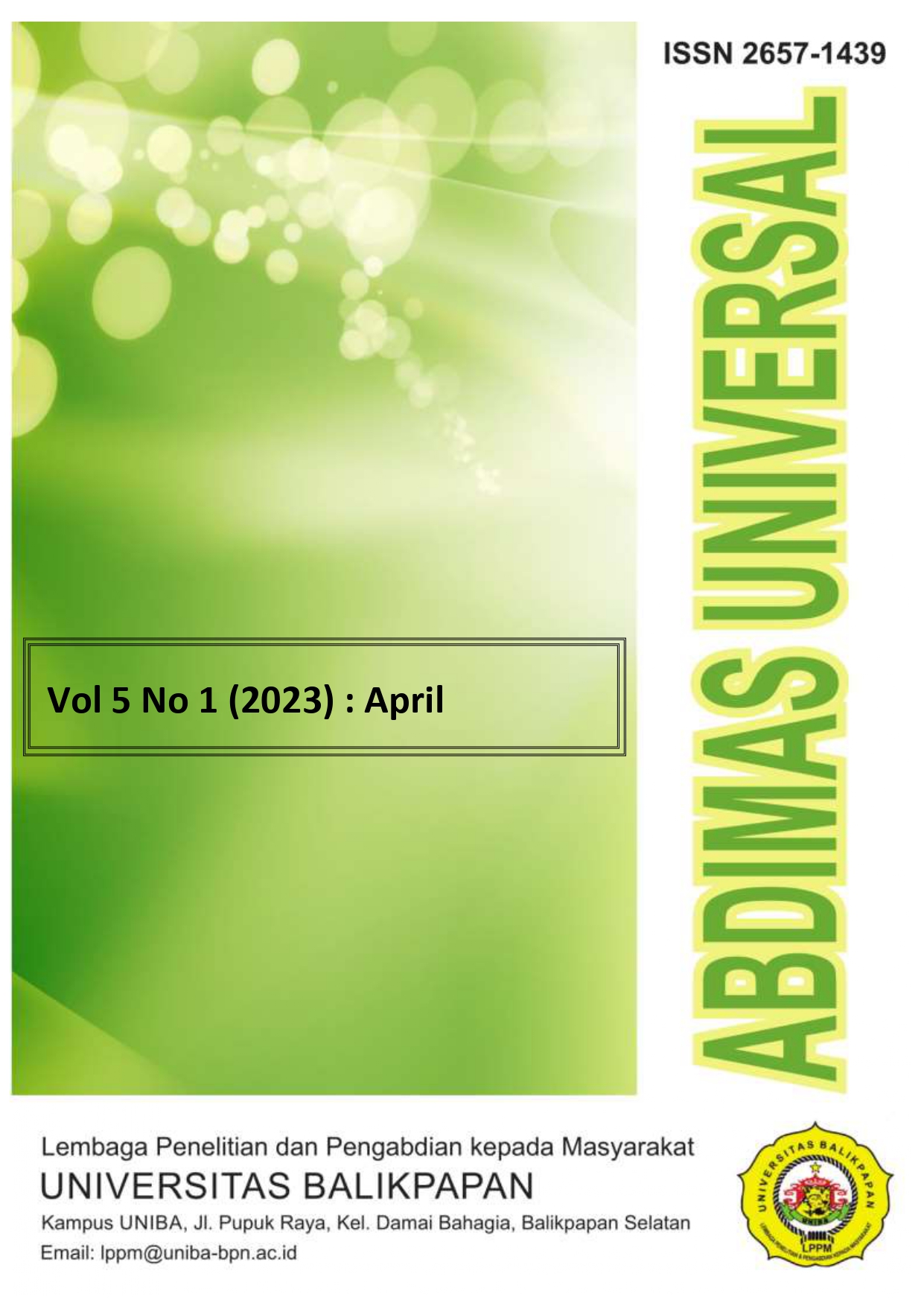 Downloads
How to Cite
Pardede, R. J., Yatmini, Y., Sudarmanto, G. ., Uling, M., & Dami, Z. A. (2022). Produksi Jamu Beras Kencur Sebagai Peningkatan Perekonomian Mahasiswa Melalui Tekno Pangan. Abdimas Universal, 5(1), 1–5. https://doi.org/10.36277/abdimasuniversal.v5i1.246