Pengembangan Website Karang Taruna Pemuda Pemudi Sejati Jambur Pulau Sebagai Media Promosi Produk Desa Berbasis Kecerdasan Buatan
Keywords:
Youth Organization, Village Products, Website, Smart Technology, Promotion Media
Abstract
Building a website requires reliable skills that can be learned self-taught or through formal training institutions. The PKM implementation team plays a direct role in building the village through coaching and mentoring for the younger generation in Jambur Village, Perbaungan Island, who have been active in youth organizations. The rise in crime rates, the distribution of drugs, and the disinterest of village youths in continuing their education to higher education raise problems that must be addressed as soon as possible. PKM from STMIK Pelita Nusantara involves members of the Pemuda Pemudi Sejati youth group, the Jambur Pulau Village office and village craftsmen, later resulting in a partnership collaboration to produce an artificial intelligence-based village online shop website. Stages of PKM implementation, Stage-1: web programming training next Stage-2: website creation. Fundamental contributions to the target audience include developing a website for selling village products which is managed directly by members of the Youth Organization, so that it can suppress social problems in the younger generation. The members who are trained can develop the web so that later they are able to maintain the sustainability of the finished web site. The performance achievement of 98%-100% of service implementation is completed, resulting in youth youth websites, online promotion assistance to craftsmen partners.
Downloads
Download data is not yet available.
References
Akbar, F., Kurniasari, S., Hibban, M. I., & Desyani, T. (2022). Penerapan Chatbot Auto Reply pada Telegram terhadap Pengembangan Bisnis Penjualan Sepatu Menggunakan Artificial Intelligence Markup Language. 5(2), 85–90. https://doi.org/10.32493/jtsi.v5i2.14733
Gamaliel, F., Arliyanto, P. Y. D., & Sulistyaningtyas, F. (2022). PELATIHAN BAHASA PEMOGRAMAN PHP (NATIVE) TINGKAT DASAR KEPADA MASYARAKAT (SMA/SMK/SEDERAJAT) MELALUI LIVE STREAMING ZOOM. 5(1), 746–752.
Islam, F. S., & Mutaqin, Z. M. (2021). Pemberdayaan Pemuda Melalui Program Pelatihan, Penyuluhan dan Pembentukan Karang Taruna Desa di Desa Tenjolaya. Proceedings Uin Sunan …, 4(November). https://proceedings.uinsgd.ac.id/index.php/proceedings/article/view/721.
Isnaeni, D. P., Gunawan, H., Marlinah, H., Tilova, N., & Pemuda, P. (2021). Pelatihan Manajemen Organisasi Dalam Meningkatkan Peran Pemuda Di Masyarakat. Abdi Laksana, Jurnal Pengabdian Kepada Masyarakat, 2, 480–487.
Karyada, I. P. F. (2018). Peningkatan Keaktifan Organisasi Pemuda Melalui Pelatihan Dasar Kepemimpinan (Program Pengabdian Di Desa Rejasa, Kecamatan Penebel, Kabupaten Tabanan). Jurnal Sewaka Bhakti, 1(1), 8–20. https://doi.org/10.32795/jsb.v1i1.23.
Mintarti, S. U., Handayani, S., Megasari, R., & Putri, R. D. (2018). Pemberdayaan Home Industry Kerajinan Bambu Menuju Kemandirian. Jurnal KARINOV, 1(3), 1–5.
Rubiyatno, R., Wuri, J., & Apriani, L. (2018). Mewujudkan Perajin Gerabah yang Mandiri Melalui Program ??M. ABDIMAS ALTRUIS: Jurnal Pengabdian Kepada Masyarakat, 01(01), 08–12. https://doi.org/10.24071/altruis.2018.010102.
Samboga, R., Rahma, D. H., & Malang, U. N. (n.d.). Pengembangan Website Desa Sebagai Media. 2018.
Samsugi, S., Nurkholis, A., Permatasari, B., Candra Nugroho, A., & Bagus Prasetyo, A. (2020). Internet of Things Untuk Peningkatan Pengetahuan Teknologi Bagi Siswa. Journal of Technology and Social for Community Service (JTSCS), 2(2), 173–177. https://ejurnal.teknokrat.ac.id/index.php/teknoabdimas.
Sanjaya, Y., Simanjuntak, M. U., Heeng, G., Susanto, S., Lo, E. J., Josanti, J., & Ditakristi, A. H. V. (2021). Sosialisasi Bahaya Narkoba Bagi Anak Muda. REAL COSTER: Jurnal Pengabdian Kepada Masyarakat, 4(1), 34–42. https://doi.org/10.53547/rcj.v4i1.99.
Sindar, A., Sinaga, R. M., Marbun, M., & Sitio, A. S. (2021). PENGENALAN PEMROGRAMAN WEB PADA KARANG TARUNA PEMUDA PEMUDI SEJATI GUNA MENGEMBANGKAN SKILL. 5(4), 1631–1639.
Siregar, R. A. (2019). Ancaman Narkoba Bagi Generasi Muda Dan Upaya Pencegahan Serta Penanggulangannya. JURNAL Comunità Servizio : Jurnal Terkait Kegiatan Pengabdian Kepada Masyarakat, Terkhusus Bidang Teknologi, Kewirausahaan Dan Sosial Kemasyarakatan, 1(2), 143–153. https://doi.org/10.33541/cs.v1i2.1284.
Sudrajat, B., Romadoni, F., & Asymar, H. H. (2022). Pelatihan Penerapan IoT Untuk Peningkatan Pengetahuan Teknologi Bagi Kader Kelurahan Sukasari Tangerang. 2(1), 107–113.
Sulistyowati, S., Indaryani, M., Sumekar, K., Mulyani, S., Gunawan, B., & Nugraha, F. (2022). Pendampingan Pengabdian Kepada Masyarakat Bagi Pengrajin Tenun Troso di Kabupaten Jepara. Empowerment …, 1(1), 65–71. http://journal.sinergicendikia.com/index.php/emp/article/view/32%0Ahttps://journal.sinergicendikia.com/index.php/emp/article/download/32/39.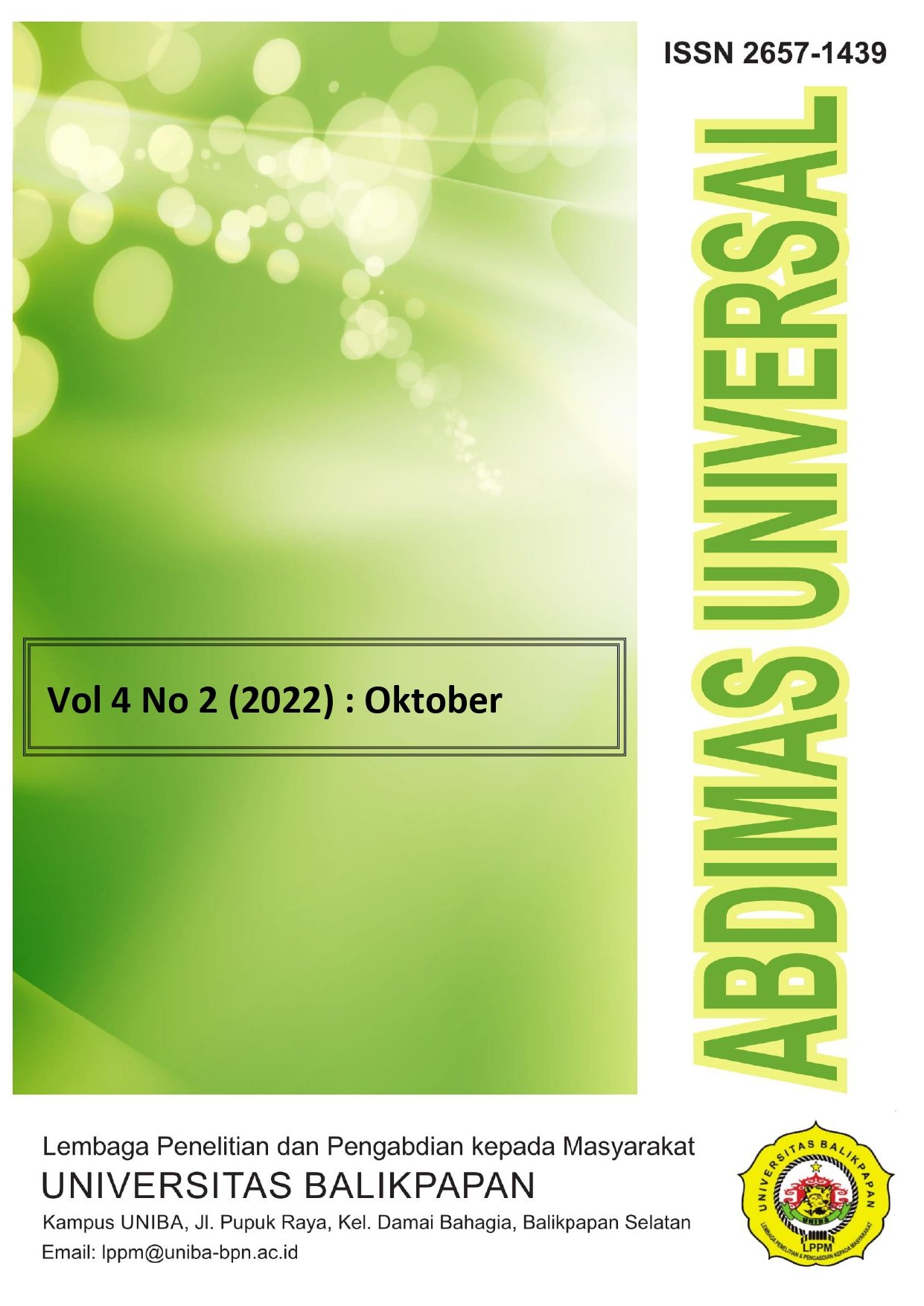 Downloads
How to Cite
Sinaga, A. S. R. M., Marbun, M., & Sitio, A. S. (2022). Pengembangan Website Karang Taruna Pemuda Pemudi Sejati Jambur Pulau Sebagai Media Promosi Produk Desa Berbasis Kecerdasan Buatan. Abdimas Universal, 4(2), 306–313. https://doi.org/10.36277/abdimasuniversal.v4i2.248