Pendampingan dan Pelatihan Pengajaran Geomatika Menggunakan Perangkat Simusurveyx dan Stake Out Guide di Program Keahlian Geospasial dan Geologi Pertambangan SMKN 1 Balikpapan
Keywords:
geospatial, geology, simusurveyx, stake out guide, measurment
Abstract
The Geospatial and Mining Geology Expertise Program at SMKN 1 Balikpapan has limitations in terms of facilities and infrastructure, the workshop building uses a former automotive workshop building which is not sufficiently representative as other skill program workshops. In terms of Geomatics practice equipment, two skill programs with resource sharing with very minimal facilities, where the equipment owned are as follows: 3 units of PPD, 1 unit of Digital Theodholite, and 2 units of TS where 1 battery unit is damaged, not proportional to the number of students with geospatial skills as many as 165 people with 6 teachers and 248 skill students with 8 teachers being less than optimal during geomatics practice. The assistance and training of the simulation tool survey and stake out guide carried out by the PkM Poltekba team is an alternative tool for the teaching and learning process in the field of measurement, making it easier for teachers and students to facilitate basic measurements and surveys in the field and reduce the risk of using limited tools so that the teaching and learning process becomes more optimal.
Downloads
Download data is not yet available.
References
Aditia, M. L., Marsudi, I. I., & Kom, M. (2016). Peningkatan Kualitas Praktik Kerja Industri Pada Kompetensi Keahlian Teknik Geomatika di SMK N 2 Yogyakarta. E-Journal Pend. Teknik Sipil …, 3, 1–7. http://journal.student.uny.ac.id/ojs/ojs/index.php/sipil/article/view/3481.
Ayu Roro. (2017). Pemanfaatn Sumber Belajar Geomatika Bagi Siswa Kelas XI Program Keahlian Geomatika di SMK Negeri 2 Yogyakarta. Jurnal Pendidikan Teknik Sipil dan Perencanaan, 1–8.
Febrianto, A., & Saputra, N. (2020). Pelatihan Media Pembelajaran Inovatif dengan VideoScribe Bagi Guru SDN Malangrejo. Community Empowerment, 6(1), 24–28. https://doi.org/10.31603/ce.3835.
Haristo Rahman, M. (2020). Analisis Ranah Psikomotor Kompetensi Dasar Teknik Pengukuran Tanah Kurikulum Smk Teknik Konstruksi Dan Properti. Jurnal Pendidikan Teknologi Dan Kejuruan, 17(1), 53. https://doi.org/10.23887/jptk-undiksha.v17i1.23022.
Humaidi, H., Qohar, A., & Rahardjo, S. (2021). Respon Siswa terhadap Penggunaan Video Youtube sebagai Media Pembelajaran Daring Matematika. JIPM (Jurnal Ilmiah Pendidikan Matematika), 10(2), 153. https://doi.org/10.25273/jipm.v10i2.9108.
Iga, L. D., & Arief, S. (2017). Youtube: Trobosan Media Pembelajaran Ekonomi Bagi Mahasiswa. Jurnal Ekonomi Pendidikan Dan Kewirausahaan, 5(2), 219–229.
Lu, C.-C., Kang, S.-C., & Hsieh, S.-H. (2007). Simusurvey: a Computer-Based Simulator for Survey Training. 743–748. https://www.irbnet.de/daten/iconda/CIB21628.pdf.
Lutfi. (2015). Penerapan Model Pembelajaran Kooperatif Metode The Learning Cell dengan Pendekatan Scientific pada Mata Pelajaran Surveying terhadap Hasil Belajar Siswa Kelas XI Geomatika SMK Negeri 2 Bojonegoro. 2, 57–63.
Meirindra. (2015). Pengembangan Instrumen Penilaian Pada Geomatika Kelas X SMK Negeri 1 Nganjuk Tahun Ajaran 2014/2015 Pada Materi Pengukuran Beda Tinggi Menggunakan Alat Penyipat Datar Berdasarkan Kurikulum 2013. Paper Knowledge. Toward a Media History of Documents, 3(April), 49–58.
Nisa, K. (2012). Pendidikan Ukur Tanah Siswa Kelas X Smk Negeri 5. 1(1), 45–51.
Rachmaniar, R. F., & Purwadi, D. (2018). Penerapan Model Pembelajaran Guided Discovery Menggunakan Jobsheet Pada Mata Pelajaran Survey Dan Pemetaan Di Smkn 3 Boyolangu Tulungagung. Jurnal Kajian Pendidikan Teknik Bangunan, 2(2).
Riwu, A. A. P., & Harijono, A. (2020). Pada Mata Pelajaran Pengantar Survey Pemetaan Kelas X Teknik Geomatika Di SMKN 2 Kupang. 1(1).
Starizky, O., Ekawati, E., & Jayanti, S. (2016). Hubungan Antara Beban Kerja Dan Iklim Kerja Dengan Kelelahan Kerja Pada Pekerjaan Pengukuran Tanah Menggunakan Alat Teodolit. Jurnal Kesehatan Masyarakat (e-Journal), 4(3), 549–556. http://ejournal-s1.undip.ac.id/index.php/jkm%0AHUBUNGAN.
Sulistyo, T., Achmad, K., & Purnama, I. B. I. (2022). The Asset Management and Tracking System for Technical and Vocational Education and Training (TVET) Institution Based on Ubiquitous Computing. ComTech: Computer, Mathematics and Engineering Applications, 13(1), 23–34. https://doi.org/10.21512/comtech.v13i1.7342.
Tribhuwana, A. (2018). Perbandingan Pengukuran Luas Area antara Theodolit dan Global Positioning System (GPS). Logika, 22(3), 58–64.
Yusi Kamhar, M., & Lestari, E. (2019). Pemanfaat Sosial Media Youtube Sebagai Media Pembelajaran Bahasa Indonesia DI Perguruan Tinggi (Utilizing Youtube Social Media as Indonesian Language Learning Media in Higher Education). Inteligensi : Jurnal Ilmu Pendidikan, 1(2), 1–7.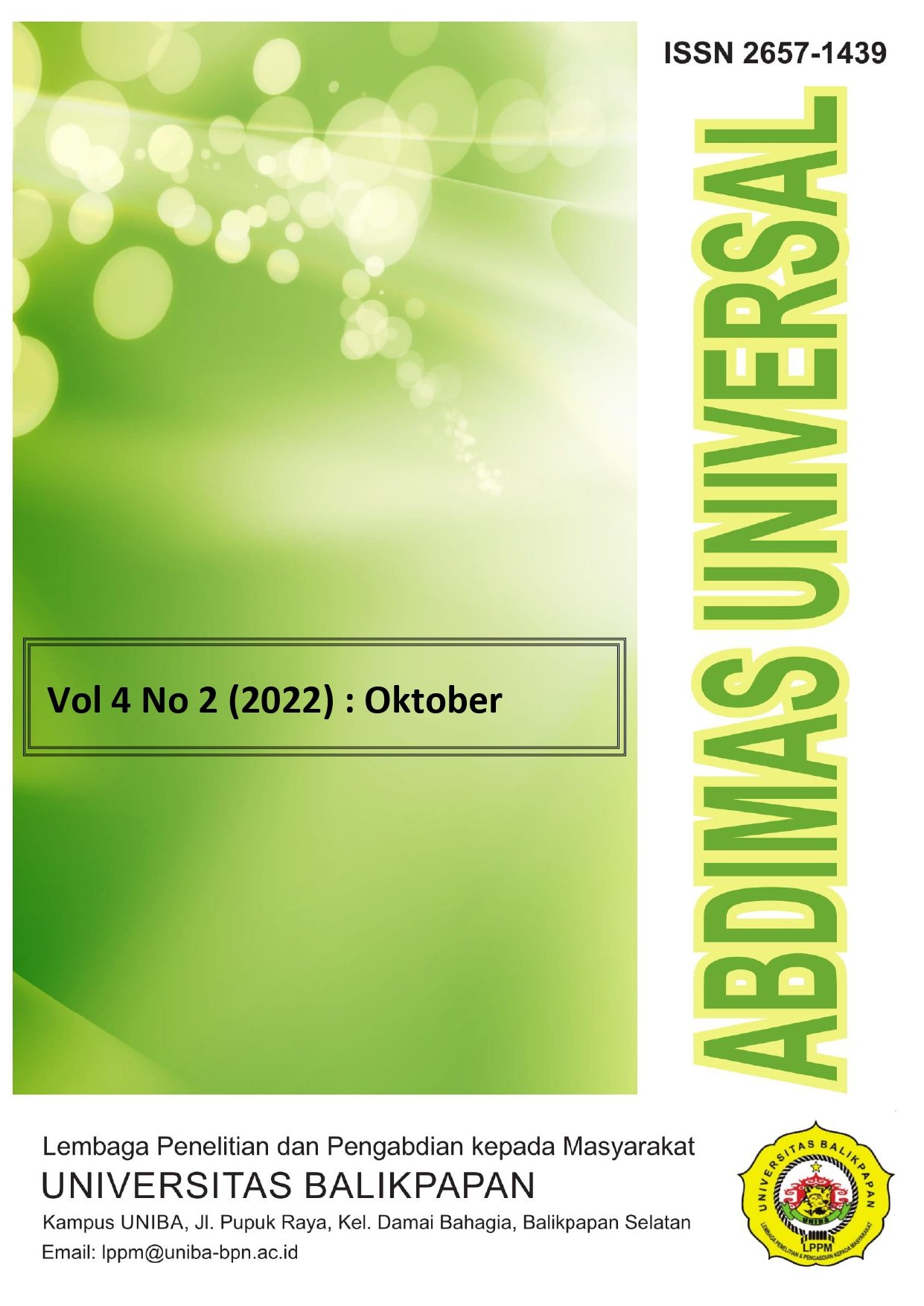 Downloads
How to Cite
Kiptiah, M., Sulistyo, T., Achmad, K., Fatmawati, F., & Kartika, D. M. R. (2022). Pendampingan dan Pelatihan Pengajaran Geomatika Menggunakan Perangkat Simusurveyx dan Stake Out Guide di Program Keahlian Geospasial dan Geologi Pertambangan SMKN 1 Balikpapan. Abdimas Universal, 4(2), 320–326. https://doi.org/10.36277/abdimasuniversal.v4i2.253