Pelatihan Dasar-Dasar Manajemen Proyek Menggunakan Perangkat Lunak Primavera P6 Bagi Alumni dan Mahasiswa Tingkat Akhir Lintas Universitas
Keywords:
Primavera, Project Management, Training
Abstract
Project management is the management of human and material resources to achieve targets that include quality, scheduling, cost, and stakeholder expectations. Industry 4.0 affects business processes, including in the construction field. The Primavera P6 Professional Project Management Fundamentals training, which is part of the Ministry of Communication and Information Technology's 2022 Digital Talent Scholarship program, aims to improve the productivity of young construction industry talent by enhancing their understanding of technology and automation. The training uses synchronous Zoom-based methods and lasts for four weeks plus one final exam day. Out of a total of 26 participants, five people successfully achieved the passing grade score and followed the international competency test certification for Oracle Primavera P6, which was held by Oracle University.
Downloads
Download data is not yet available.
References
Ahmed, M. I., Brijbhushan, S., & Maneeth, P. D. (2017). Planning , Scheduling , Resource Allocating and Tracking of Residential ( G + 2 ) Villa Using Primavera P6. International Research Journal of Engineering and Technology (IRJET), 4(8), 967–971. https://irjet.net/archives/V4/i8/IRJET-V4I8168.pdf.
Akash, M. R., Wadhwa, R., Dattatray, M. R., & Shinde, S. (2016). Project Management Using Primavera P68.2. International Journal of Innovations in Engineering Research and Technology [Ijiert], 3(11), 7–11.
Alaloul, W. S., Liew, M. S., & Zawawi, N. A. W. A. (2015). The Characteristics of Coordination Process in Contruction Projects. 2015 International Symposium on Technology Management and Emerging Technologies (ISMET), 159–164.
Alaloul, W. S., Liew, M. S., Zawawi, N. A. W. A., & Mohammed, B. S. (2018). Industry Revolution IR 4.0: Future Opportunities and Challenges in Construction Industry. MATEC Web of Conferences, 203, 1–7. https://doi.org/10.1051/matecconf/201820302010.
Badan Penelitian dan Pengembangan SDM Kementrian Komunikasi dan Informatika. (2022). Pedoman Pelatihan Professional Academy Training of Trainer Primavera P6 Professional Project Management Fundamentals.
Balakrishnan, R., & Das, S. (2020). How do firms reorganize to implement digital transformation? Strategic Change, 29(5), 531–541. https://doi.org/10.1002/jsc.2362.
Crosthwaite, D. (2000). The global construction market: A cross-sectional analysis. Construction Management and Economics, 18(5), 619–627. https://doi.org/10.1080/014461900407428.
Dinata, A., & Azizah, B. (2021). Abdimas universal. Abdimas Universal, 1(3), 73–77. https://doi.org/doi.org/10.36277/abdimasuniversal.v3i1.113.
Ferrada, X., Núñez, D., Neyem, A., Serpell, A., & Sepúlveda, M. (2016). A Lessons-learned System for Construction Project Management: A Preliminary Application. Procedia - Social and Behavioral Sciences, 226(October 2015), 302–309. https://doi.org/10.1016/j.sbspro.2016.06.192.
Hess, T., Benlian, A., & Matt, C. (2016). Options for formulating a digital transformation strategy. MIS Quarterly Executive, 15(2), 123–139.
Hossain, M. A., & Nadeem, A. (2019). Towards digitizing the construction industry: State of the art of construction 4.0. ISEC 2019 - 10th International Structural Engineering and Construction Conference, July, 0–6. https://doi.org/10.14455/isec.res.2019.184.
Kohli, A. R. (2017). Enterprise Project Management using Primavera P6 EPPM. International Research Journal of Engineering and Technology (IRJET), 4(12), 1074–1081.
Marnewick, C., & Marnewick, A. L. (2022). Digitalization of project management: Opportunities in research and practice. Project Leadership and Society, 3(May). https://doi.org/10.1016/j.plas.2022.100061.
Ortiz, O., Castells, F., & Sonnemann, G. (2009). Sustainability in the construction industry: A review of recent developments based on LCA. Construction and Building Materials, 23(1), 28–39. https://doi.org/10.1016/j.conbuildmat.2007.11.012.
Pratisto, D., & Girsang, H. (2022). Scheduling with Microsoft Project Professional and Oracle Primavera P6:(Case Study: Hotel Development Project of Soekarno-Hatta Airport Terminal 3 Ultimate). World Journal of Innovation and Technology, 3(1), 22–29. http://world.journal.or.id/index.php/wjit/article/view/140%0Ahttp://world.journal.or.id/index.php/wjit/article/download/140/189.
Project Management Institute. (2008). A Guide to Project Management Body of Knowledge (PMBOK GUIDE) (4th ed.).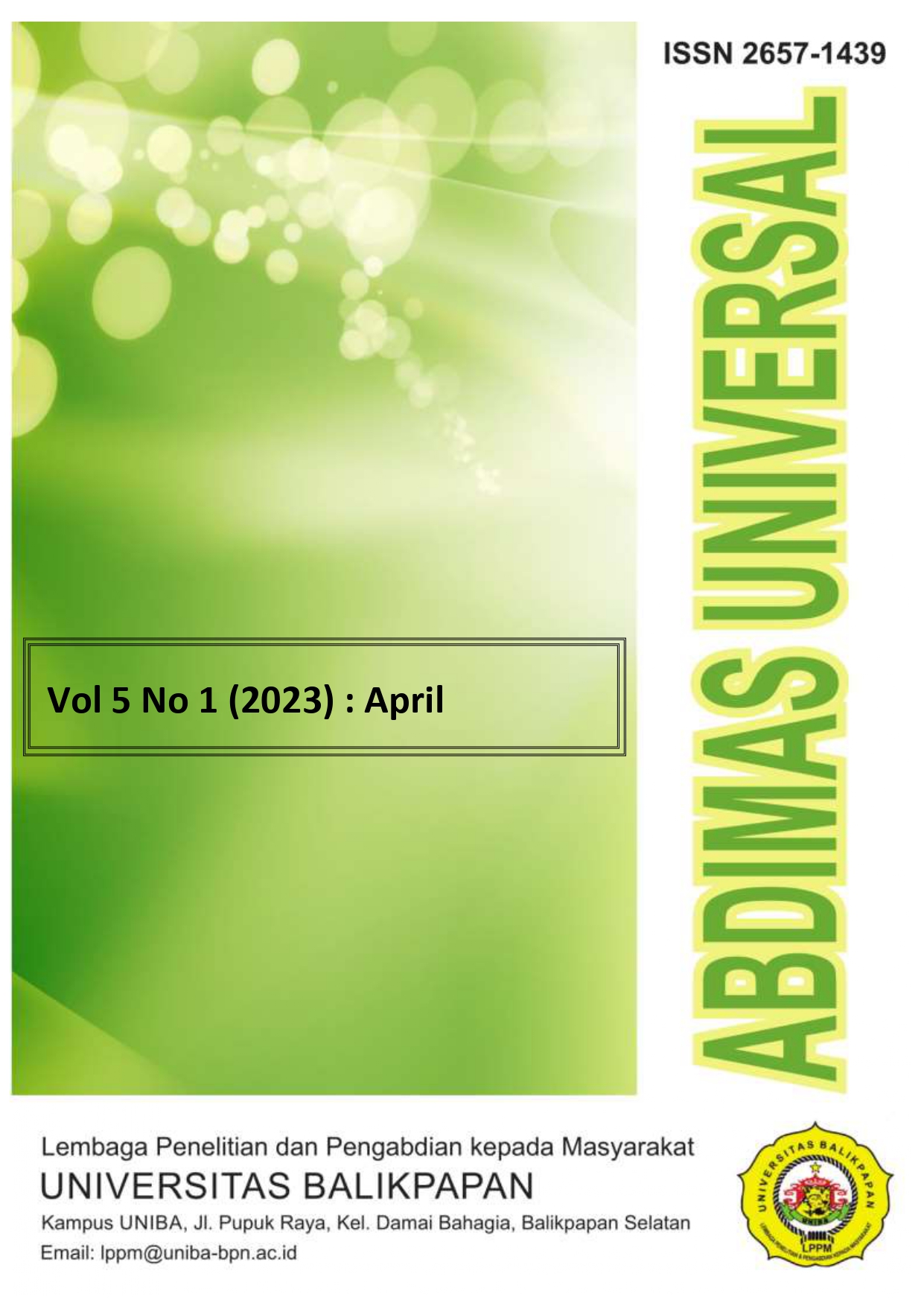 Downloads
How to Cite
Harits, D., & Arifin, K. (2023). Pelatihan Dasar-Dasar Manajemen Proyek Menggunakan Perangkat Lunak Primavera P6 Bagi Alumni dan Mahasiswa Tingkat Akhir Lintas Universitas. Abdimas Universal, 5(1), 110–116. https://doi.org/10.36277/abdimasuniversal.v5i1.277