Optimalisasi Pemanfaatan Lahan Pekarangan Rumah dengan Tanaman Rempah pada Masa Pandemi Covid-19
Keywords:
home yards, spices, focus group discussions, monitoring
Abstract
This community service program aims to provide additional knowledge and understanding in optimally utilizing home yards to increase community productivity while implementing government policies to stay at home during the Covid-19 pandemic.. Like rural communities in general, the people of Pongpongan village have quite large yards, but this is still not being utilized optimally. To provide additional knowledge and understanding regarding the use of homestead land, the initial stage of this program is to conduct socialization, then follow it up with training in planting and caring for good spices and then proceed to the monitoring process. The method used was to carry out focus group discussions and planting practices. Monitoring activities were carried out for approximately 3 months to determine the progress and obstacles faced by program participants. The results obtained indicate that many people have not used their yards and are constrained by capital. In addition, of all the participants who have yards that can still be used, they are interested in joining the follow-up program. This is because 100% of participants are satisfied and 85% of participants do not experience difficulties in running the programs given.
Downloads
Download data is not yet available.
References
Donna, A. (2017). 5 Trik Menyulap Lahan Kosong Jadi Lahan Uang. https://www.suara.com/bisnis/2017/10/11/070000/5-trik-menyulap-lahan-kosong-jadi-lahan-uang
Dwiratna, S., Widyasanti, A., & Rahmah, D. M. (2016). Pemanfaatan Lahan Pekarangan Dengan Menerapkan Konsep Kawasan Rumah Pangan Lestari. Dharmakarya, 5(1).
Evizal, R. (2013). Tanaman Rempah dan Fitofarmaka. Lembaga Penelitian Universitas Lampung.
Hani, A., & Octavia, D. (2021). Kapulaga Ratu Rempah Pembawa Berkah Potensi Prospektif di Era Pandemi COVID-19. PT Penerbit IPB Press.
Lentera, T. (2002). Khasiat dan manfaat jahe merah si rimpang ajaib. AgroMedia.
Oktafianto, K., Ro'uf, A., Afnan, F. N., Yudi, R. A., Lucyana, E. A., Wahyuni, K., & Khasana, F. (2019). Pembuatan Kompos Organik dari Kotoran Sapi. Abdimas Universal, 1(2), 27–29.
Pakpahan, R., & Fitriani, Y. (2020). Analisa pemanfaatan teknologi informasi dalam pembelajaran jarak jauh di tengah pandemi virus corona covid-19. Journal of Information System, Applied, Management, Accounting and Research, 4(2), 30–36.
Purwantini, T. B. (2016). Potensi dan prospek pemanfaatan lahan pekarangan untuk mendukung ketahanan pangan. Forum Penelitian Agro Ekonomi, 30(1), 13–30.
Rahayu, A. O. S., Wati, Y. S., & Herawati, M. (2022). Peningkatan Kesehatan Masyarakat Melalui Pemeberdayaan Wanita dalam Pemanfaatan Tanaman Obat Keluarga (TOGA) di Wilayah Kerja Puskesmas Rejosari Pekanbaru. Abdimas Universal, 4(1), 84–88.
Rokhmah, N. A., Ammatillah, C. S., & Sastro, Y. (2014). Vertiminaponik, mini akuaponik untuk lahan sempit di perkotaan. Buletin Pertanian Perkotaan, 4(2), 14–22.
Sumarni, Y. (2020). Pandemi Covid-19: Tantangan Ekonomi Dan Bisnis. Al-Intaj: Jurnal Ekonomi Dan Perbankan Syariah, 6(2), 46–58.
Wardiani, S. R., & Intan, T. (2021). Pemberdayaan Kaum Ibu melalui Solidaritas Bantuan Pangan pada Masa Pandemi Covid-19 di Wilayah Perumahan Kota Bekasi. Abdimas Universal, 3(2), 123–128.
Waskitoningtyas, R. S., & Ismiyati, N. (2020). Sukseskan Gerakan Wanita Matilda (Mandiri, Terampil, Berdaya) Di Rt 49 Kelurahan Sepinggan. Abdimas Universal, 2(1), 8–12.
Winarso, B. (2017). Dinamika pola penguasaan lahan sawah di wilayah pedesaan di Indonesia. Jurnal Penelitian Pertanian Terapan, 12(3).
Yulida, R. (2012a). Kontribusi usahatani lahan pekarangan terhadap ekonomi rumah tangga petani di kecamatan Kerinci kabupaten Pelalawan. IJAE (Jurnal Ilmu Ekonomi Pertanian Indonesia), 3(2), 135–154.
Yulida, R. (2012b). Persepsi Petani Terhadap Usahatani Lahan Pekarangan (Studi Kasus Usahatani Lahan Pekarangan di Kecamatan Kerinci Kabupaten Pelalawan). IJAE (Jurnal Ilmu Ekonomi Pertanian Indonesia), 3(2), 177–194.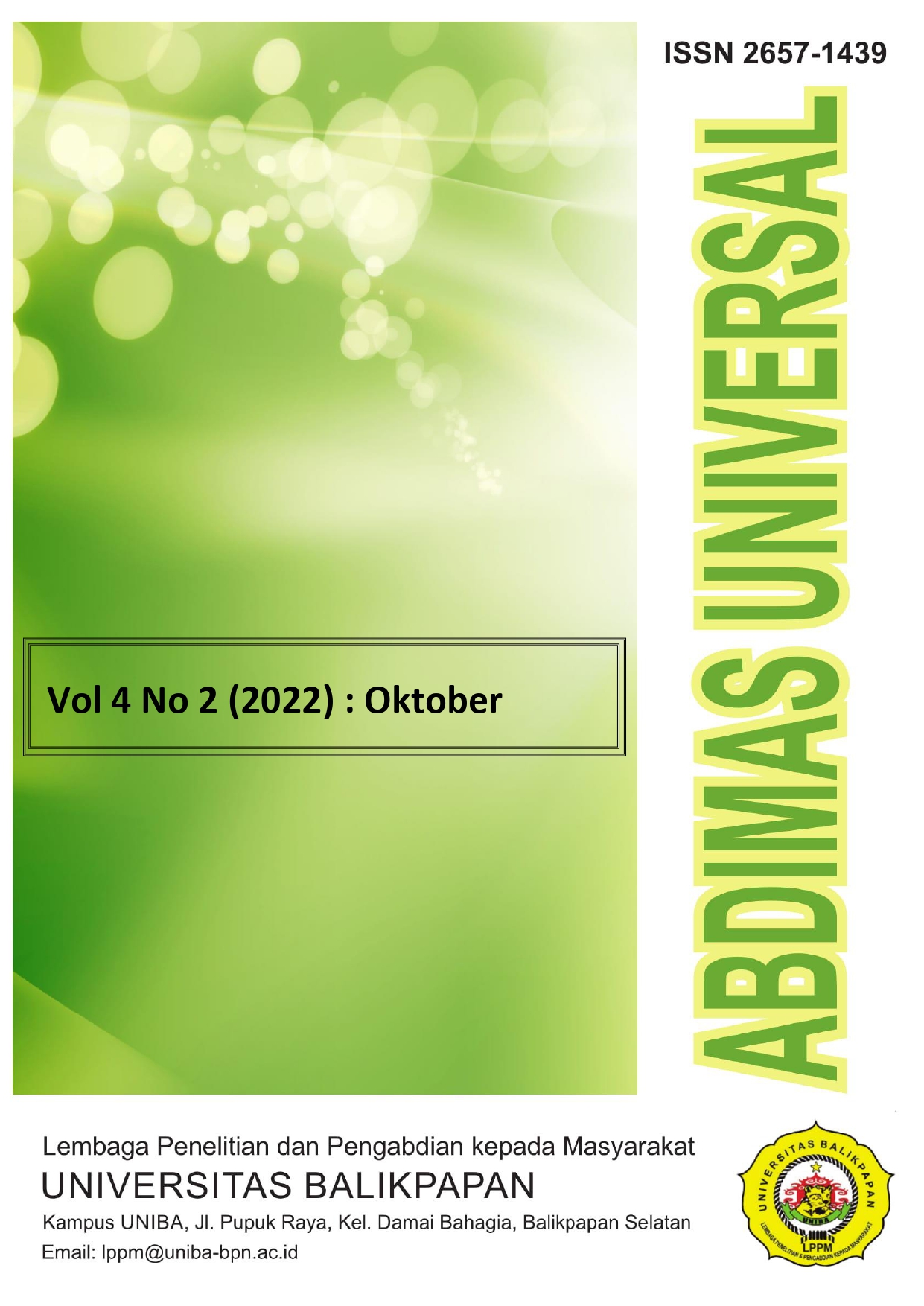 Downloads
How to Cite
Arifin, A. Z., Febriyantiningrum, K., & Nurfitria, N. (2022). Optimalisasi Pemanfaatan Lahan Pekarangan Rumah dengan Tanaman Rempah pada Masa Pandemi Covid-19 . Abdimas Universal, 4(2), 164–168. https://doi.org/10.36277/abdimasuniversal.v4i2.109