Peningkatan Kualitas Pelayanan Keperawatan Melalui Interdisciplinary Rounds
Keywords:
interdisciplinary rounds, nurse knowledge
Abstract
Sansani Pekanbaru is a hospital located on Jl. Soekarno Hatta No. 501, Air Hitam Kec. Payung Sekaki, Pekanbaru City.. Along with the times, Sansani Hospital is required to be able to provide quality services. Quality nursing care is what patients want. One of the efforts to improve the quality of service is through the implementation of the Interdisciplinary Bedside Round which is part of the nursing round. In implementing this program, the proposing team has prepared a method plan that was carried out during the process. The training activities use counseling methods, role play, and mentoring. The results showed that the mean of knowledge before being given training was 6.33 (SD 0.500) and the mean of knowledge after being given training was 6.78 (SD 0.441). The results of the bivariate analysis showed a p value of 0.035 (0.05) which means that there was a significant effect before and after training.
Downloads
Download data is not yet available.
References
Agustina, V., Mardiono, M., & Ibrahim, D. A. F. (2016). Hubungan Tingkat Pengetahuan Dengan Sikap Perawat dalam Pelaksanaan Ronde Keperawatan di Ruang Aster dan ICCU RSUD dr. Doris Sylvanus. Dinamika kesehatan jurnal.
Clement, I. (2011). Management nursing services and education. 1st ed. India : Elsevier.
Febriana, N. (2010) Pengaruh Nursing Round Terhadap Kepuasan Pasien pada Pelayanan Keperawatan Di Rumah Sakit MMC Jakarta. Tesis kekhususan kepemimpinan dan manajemen keperawatan program pascasarjana FIK UI : Tidak dipublikasikan.
Potter, P.A., and Perry, G.A. (2010). Fundamental of nursing (Volume 2, 7th Ed.). ST. Louis: Mosby Year Book.
Siahaan, J. V., Siagian, A., & Bukit, E. K. (2018). Pengaruh Pelatihan Ronde Keperawatan Terhadap Kinerja Perawat dalam Asuhan Keperawatan di RS Royal Prima Medan. Jumantik (Iurnal Ilmiah Penelitian Kesehatan), 3(1), 1-15.
Simamora, Roymond H. (2010). Komunikasi dalam Keperawatan. Jember University Press.
Simamora, Roymond H. (2009). Dokumentasi Proses Keperawatan. Jember. University Press.
Simamora, Roymond H. (2008). Peran Manajer dalam Pembinaan Etika Perawat Pelaksana dalam Meningkatkan Kualitas Pelayanan Asuhan Keperawatan. Jurnal IKESMA.
Simamora, R. H., Bukit, E., Purba, J. M., & Siahaan, J. (2017). Penguatan kinerja perawat dalam pemberian asuhan keperawatan melalui pelatihan ronde keperawatan di rumah sakit royal prima medan. Jurnal pengabdian kepada masyarakat, 23(2), 300-304.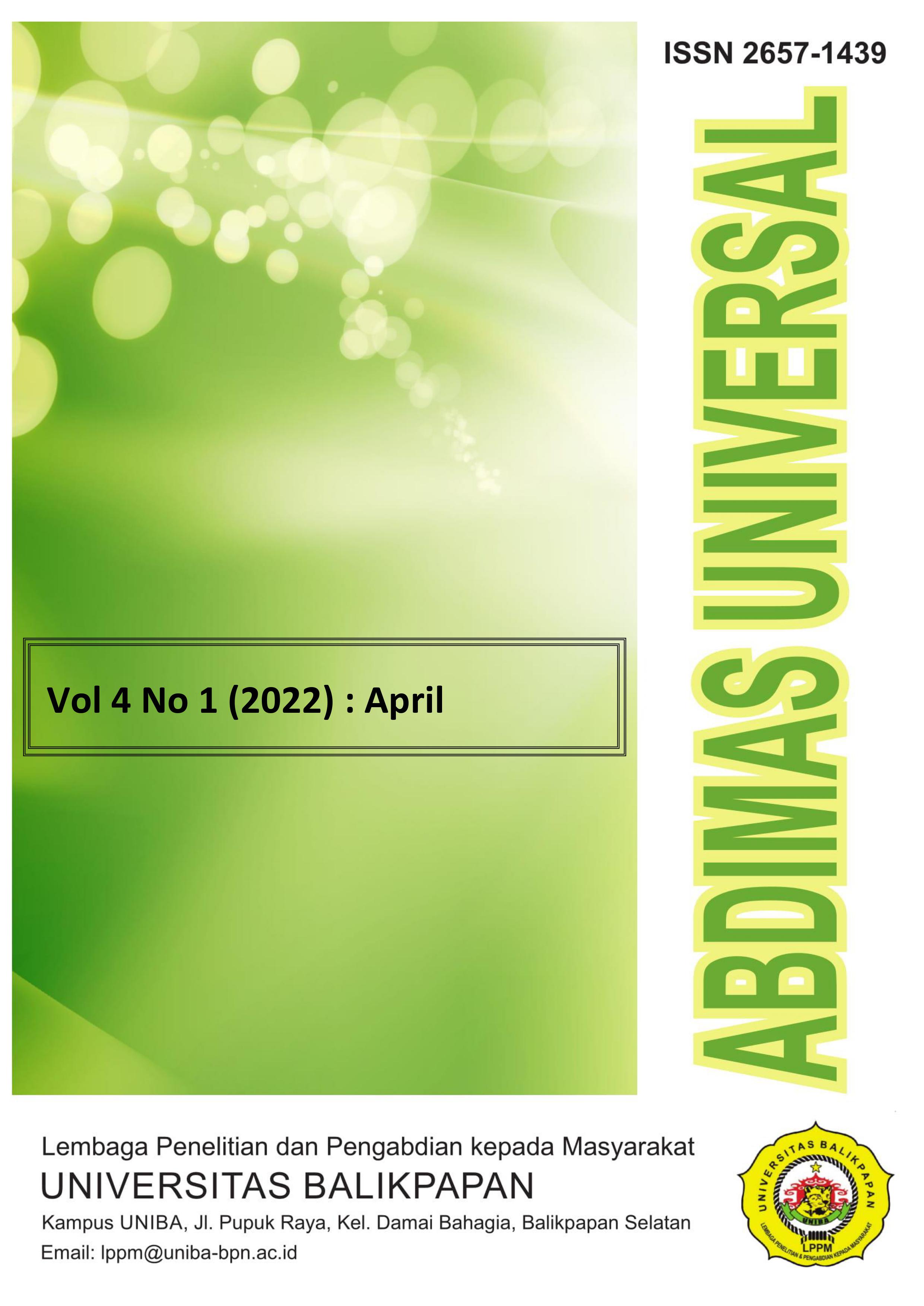 Downloads
How to Cite
Dilgu Meri, Mayenti, F., & Ramadia, A. (2022). Peningkatan Kualitas Pelayanan Keperawatan Melalui Interdisciplinary Rounds. Abdimas Universal, 4(1), 5–8. https://doi.org/10.36277/abdimasuniversal.v4i1.130