Pelatihan Perilaku Hidup Sehat Pada Siswa Sekolah Luar Biasa Negeri Jember
Keywords:
Children with Special Needs, Student Health Cadre, Healthy Lifestyle, General Health Status, Oral Dental Health Status
Abstract
Healthy living behavior training is an effort to empower students of SLB Negeri Jember. The implementation of the training has been designed according to the abilities of the students. This activity has implemented the concept of improving life skills so that students are prevented from various diseases and are able to live healthy independently. The implementation method is as follows: 1) counseling and training on healthy living behavior and brushing teeth properly; 2) general health and oral health examinations; and 3) revitalization of School Health Unit through training of Student Health Cadres. Activities are equipped with modules and health examination record books. Activity evaluation procedures include: 1) re-examination of general health status; 2) re-examination of oral health status; and 3) supervision one month after program implementation. At the end of the activity, the students are able to wash their hands and brush their teeth properly and independently. Student Health Cadres are able to take measurements of height, weight, and body temperature. The general health profile of students is quite good, but their oral health is still poor and requires treatment from health workers.
Downloads
Download data is not yet available.
References
Abidah, Y. N, & Huda, A. (2018). Pelaksanaan Program Perilaku Hidup Bersih dan Sehat (PHBS) di Sekolah Luar Biasa. Jurnal Ortopedagogia, 4(2), 87-93. http://journal2.um.ac.id/index.php/jo/article/view/3996.
Andayani, R. (2016). Metode Drill Bermedia Flash Card untuk Meningkatkan Pengetahuan dan Praktik Cuci Tangan Pakai Sabun pada Anak Tunagrahita. Journal of Health Education, 1(1), 37-43. http://journal.unnes.ac.id/sju/index.php/jhealthedu/.
Anjani, R. R, & Sopandi, A. A. (2022). Pola Asuh Orang Tua Dalam Mengembangkan Interaksi Sosial Anak Autis Di SLBN 01 Padang. Journal of Basic Education Studies, 5(1), 680-689. https://ejurnalunsam.id/index.php/jbes/article/view/5301.
Indahwati, V, Mantik, M. F. J, Gunawan, P. N. (2015). Perbandingan Status Kebersihan Gigi dan Mulut Pada Anak Berkebutuhan Khusus SLB-B dan SLB-C Kota Tomohon. Jurnal e-GiGi, 3(2), 361-366. https://ejournal.unsrat.ac.id/index.php/egigi/article/view/9605/9196.
Lestari, I. P, & Widyawati, S. A. (2020). Peningkatan Kemandirian Hygiene Personal Bagi Anak Berkebutuhan Khusus. Indonesian Journal of Community Empowerment (IJCE), 2(1), 56-62. http://jurnal.unw.ac.id/index.php/IJCE/article/view/524/398.
Nugroho, K. P. A, Dary, Sijabat, R. (2017). Gaya Hidup yang Mempengaruhi Kesehatan Anak Berkebutuhan Khusus di SLB Negeri Salatiga. Jurnal Keperawatan Muhammadiyah, 2(2), 102-117. http://journal.um-surabaya.ac.id/index.php/JKM/article/view/1069/pdf.
Octiara, E, Salmiah, S, Amalia, Z, Luthfiani. (2018). Kebutuhan Perawatan Gigi Pada Anak Berkebutuhan Khusus Di Sekolah Luar Biasa Taman Pendidikan Islam Medan. Abdimas Talenta, 3(1), 81-89. http://jurnal.usu.ac.id/abdimas.
Permanisuci, P. I, & Soeyono, R. D. (2021). Asupan Makanan, Pengetahuan Gizi Ibu, Dan Status Gizi Siswa Sekolah Dasar Inklusi Galuh Handayani. Jurnal Gizi Unesa, 1(2), 72-81. https://ejournal.unesa.ac.id
Pursitasari, I, & Allenidekania. (2019). Literature Review: Kemampuan Anak Berkebutuhan Khusus Melakukan Kebersihan Diri. Jurnal Kesehatan, 10(2), 305-311. https://ejurnal.poltekkes-tjk.ac.id/index.php/JK/article/view/1317/976.
Putri, S. M. (2015). Pola Komunikasi Nonverbal Guru dalam Proses Belajar Mengajar Bagi Siswa Tunarunggu di Sekolah Luar Biasa Negeri Pembina Pekanbaru. Jurnal Online Mahasiswa (JOM) Bidang Ilmu Sosial dan Ilmu Politik, 2(1), 1-15. https://jom.unri.ac.id/index.php/JOMFSIP/article/view/4965/4847.
Rosmawati & Surayah. (2018). Status Kesehatan Gigi Dan Mulut Pada Anak Berkebutuhan Khusus Penyandang Cacat Fisik Di SLB Prof. Dr. Sri Soedewi Sofwan, Jambi. Jurnal Bahan Kesehatan Masyarakat, 2(1), 27-32. http://ejurnal.poltekkes-tjk.ac.id/index.php/JK.
Saptiwi, B, Cilmiaty, R. A. R, Susanti, W, Dirgahayu, P, Prayitno, A, Sutartinah, Subiyantoro, P. (2021). Pendidikan Kesehatan tentang Personal Hygiene dan Pemeriksaan Kecacingan pada Anak Berkebutuhan Khusus di SLB Anugerah, Colomadu, Karanganyar. Abdimas Universal, 3(1), 1-7. http://abdimasuniversal.uniba-bpn.ac.id/index.php/abdimasuniversal.
Setyaningsih, R. (2019). Faktor-Faktor Yang Mempengaruhi Status Gizi pada Anak Berkebutuhan Khusus. Jurnal Kesehatan Holistik, 3(2), 1-16. https://ejournal.stikesrshusada.ac.id/index.php/jkh/article/view/49/19.
Temo, A. L, & Marlina, M. (2019). Pola Asuh Orang Tua dalam Mengembangkan Interaksi Sosial Anak Tunagrahita Sedang di SLB N 02 Padang. Indonesian Journal of Islamic Early Childhood Education, 4(2), 165–174. https://jurnal.piaud.org/index.php/Ijiece/article/view/166.
Veriza, E, & Boy, H. (2018). Perilaku Pemeliharaan Kesehatan Gigi dan Mulut pada Anak Autisme. Faletehan Health Journal, 5(2), 55-60. https://journal.lppm-stikesfa.ac.id.
Widaningsih, R, Rahardjo, B, Ayudia, S. (2019). Studi Kasus Tentang Alternatif Perilaku Hidup Bersih dan Sehat untuk Anak Tunagrahita di SLB Putro Oyotasih Jatinom Klaten. Jurnal Ilmu Kesehatan Masyarakat Berkala (JIKeMB), 1(1), 59-66. https://journal.univetbantara.ac.id/index.php/jikemb/article/view/817.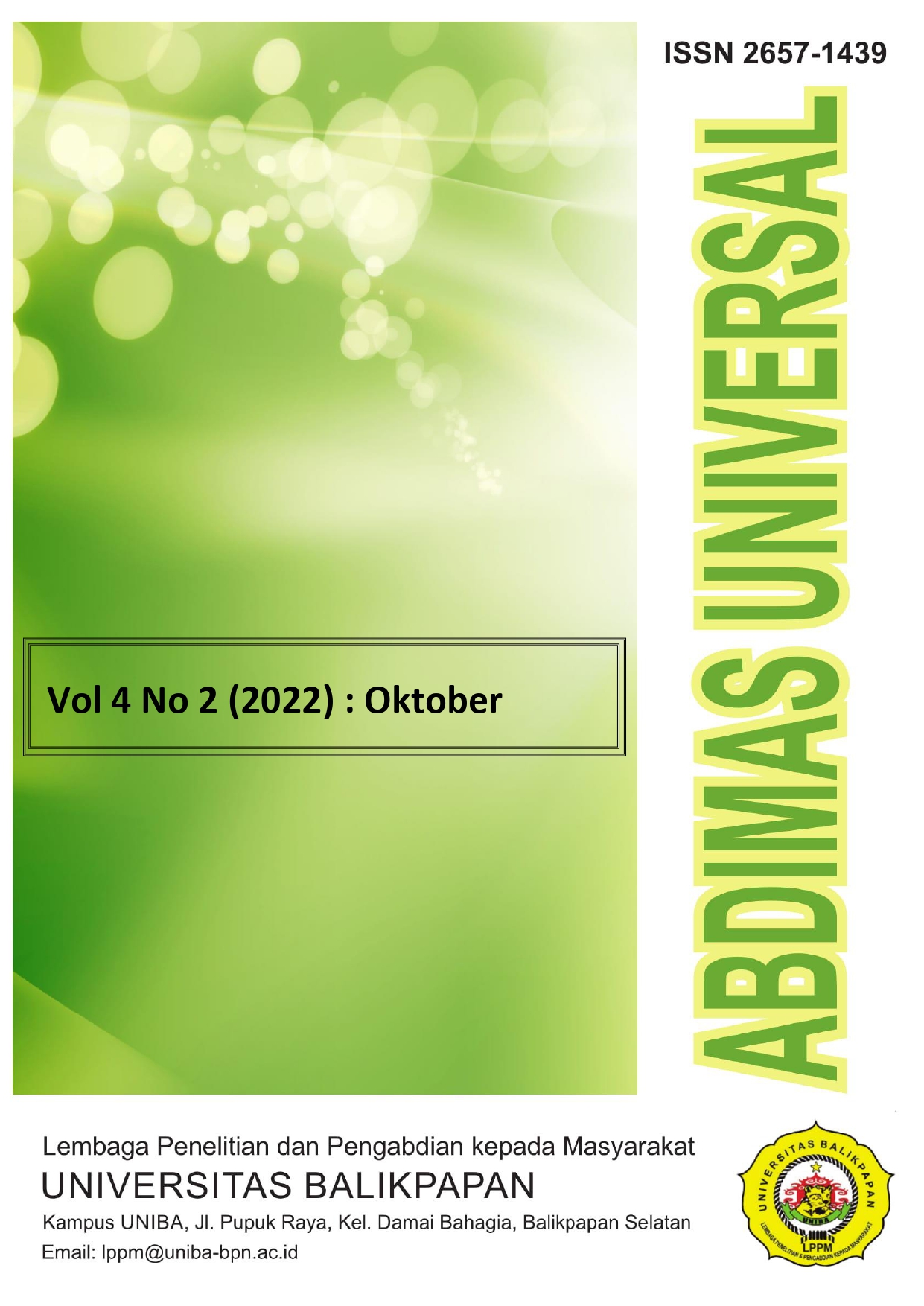 Downloads
How to Cite
Kusumawardani, B., Robin, D. M. C. ., Rahayu, Y. C. ., Dewanti, P., & Komariyah, S. . (2022). Pelatihan Perilaku Hidup Sehat Pada Siswa Sekolah Luar Biasa Negeri Jember. Abdimas Universal, 4(2), 234–239. https://doi.org/10.36277/abdimasuniversal.v4i2.233