Sosialisasi Perkembangan Peserta Didik tentang Perkembangan Emosional dan Moral di RT 49 Sepinggan
Keywords:
Emotional and Moral Development
Abstract
The purpose of this service is to find out how students develop emotionally and how students develop morally. This service is located in Bukit Anugerah Indah Housing Estate, RT 49, Sepinggan Village, Balikpapan City, East Kalimantan Province. The population of this service is the residents of Bukit Anugerah Indah Housing by taking research subjects from parents who have elementary school children. Data collection methods in the form of interviews and documentation. The data analysis technique in this service uses source triangulation, namely interviews with 3 mothers. It was found that the development of children varies depending on the age of the child, emotional development also affects what they think, emotions also describe what a person thinks. The more mature a person, the emotional level will rarely occur unlike in children which often happens. While moral development is very influential on a person's character, if someone wants to be respected, he must have good moral qualities, in school it is very good to be taught moral traits, to educate children to be better. In everyday life, it is also very necessary to teach children moral character, so that empathy, honesty, truth, and chastity will grow. Moral nature makes a person able to socialize with people.
Downloads
Download data is not yet available.
References
Azhar, Khoirul & Sa'idah, Izzah. (2017). Studi Analisis Upaya Guru Akidah Akhlak Dalam Mengembangkan Potensi Nilai Moral Peserta Didik Di MI Kabupaten Demak. Jurnal Al-Ta'dib, 10 (2),73-90.
Filtri, Heleni. (2017). Perkembangan Emosional Anak Usia Dini Usia 5-6 Tahun Ditinjau dari Ibu yang Bekerja. PAUD Lectura: Jurnal Pendidikan Anak Usia Dini, 1(1), 32-37.
Fitri, Mardi & Na'imah. (2020). Faktor Yang Mempengaruhi Perkembangan Moral Pada Anak Usia Dini. Al-Athfaal: Jurnal Ilmiah Pendidikan Anak Usia Dini, 3(1), 1-15.
Gennika, L., & Sembiring, E. E. (2021). Pengembangan Konten Edukatif untuk Sosialisasi Pencegahan Covid-19 pada Anak di Pasar Barsehati Kota Manado. Abdimas Universal, 3(2), 134-139.
Jannah, M., Yacob, F., & Julianto. (2017). Rentang Kehidupan Manusia (Life Span Development) dalam Islam. Gender Equality: International Journal of Child and Gender Studies, 3(1), 97-114.
Khotimah, H., Permatasari, B.I., & Ismiyati, N. (2020). Pengajaran Perkalian dan Pembagian dengan Metode Jarimatika. Abdimas Universal, (2), 86-89.
Maryanti, B., & Asni, B. (2019). Pemberdayaan dan Pendampingan Anak Terlantar di Panji Berbakat Anakdi Kelurahan Baru Ulu Balikpapan. Abdimas Universal, 1(2), 56-60.
Mukarromah, Hafidah, & Nurjanah. (2021). Kultur Pengasuhan Keluarga terhadap Perkembangan Moral Anak Usia Dini. Jurnal Obsesi : Jurnal Pendidikan Anak Usia Dini, 5(1), 395-403.
Mukhlis, Akhmad & Mbelo, Furkanawati Handani. (2019). Analisis Perkembangan Sosial Emosional Anak Usia Dini Pada Permainan Tradisional. PRESCHOOL: Jurnal Perkembangan dan Pendidikan Anak Usia Dini, 1(1), 11-28.
Neuliep. (2012). The Relationship among Intercultural Communication Apprehension, Ethnocentrism, Uncertainty Reduction, and Communication Satisfaction during Initial Intercultural Interaction: An Extension of Anxiety and Uncertainty Management (AUM) Theory. Journal of Intercultural Communication Research, 41(1), 1-16.
Poerwati, Christiani Endah and I. Made Elia Cahaya. (2018). Project-Based Drawing Activities in Improving Social-Emotional Skills of Early Childhood. Jurnal Obsesi : Jurnal Pendidikan Anak Usia Dini, 2(2), 183-193.
Risdiany & Lestari. (2021). Pengaruh Film Kartun Upin dan Ipin Terhadap Perkembangan Moral Anak. EDUKATIF: Jurnal Ilmu Pendidikan, 3(4), 1366 – 1372.
Setyowati, Yuli. (2005). Pola Komunikasi Keluarga dan Perkembangan Emosi Anak (Studi Kasus Penerapan Pola Komunikasi Keluarga dan Pengaruhnya terhadap Perkembangan Emosi Anak pada Keluarga Jawa). Jurnal Ilmu Komunikasi, 2(1), 67-78.
Sit, Masganti. (2012). Perkembangan Peserta Didik. Medan: Perdana Publishing.
Waskitoningtyas, dkk. (2022). Peningkatan Pengetahuan Orangtua tentang Perkembangan Kognitif dan Sosial Peserta Didik di Kelurahan Sepinggan Balikpapan. Jurnal Komunitas: Pengabdian Kepada Masyarakat, 5(1), 89-97.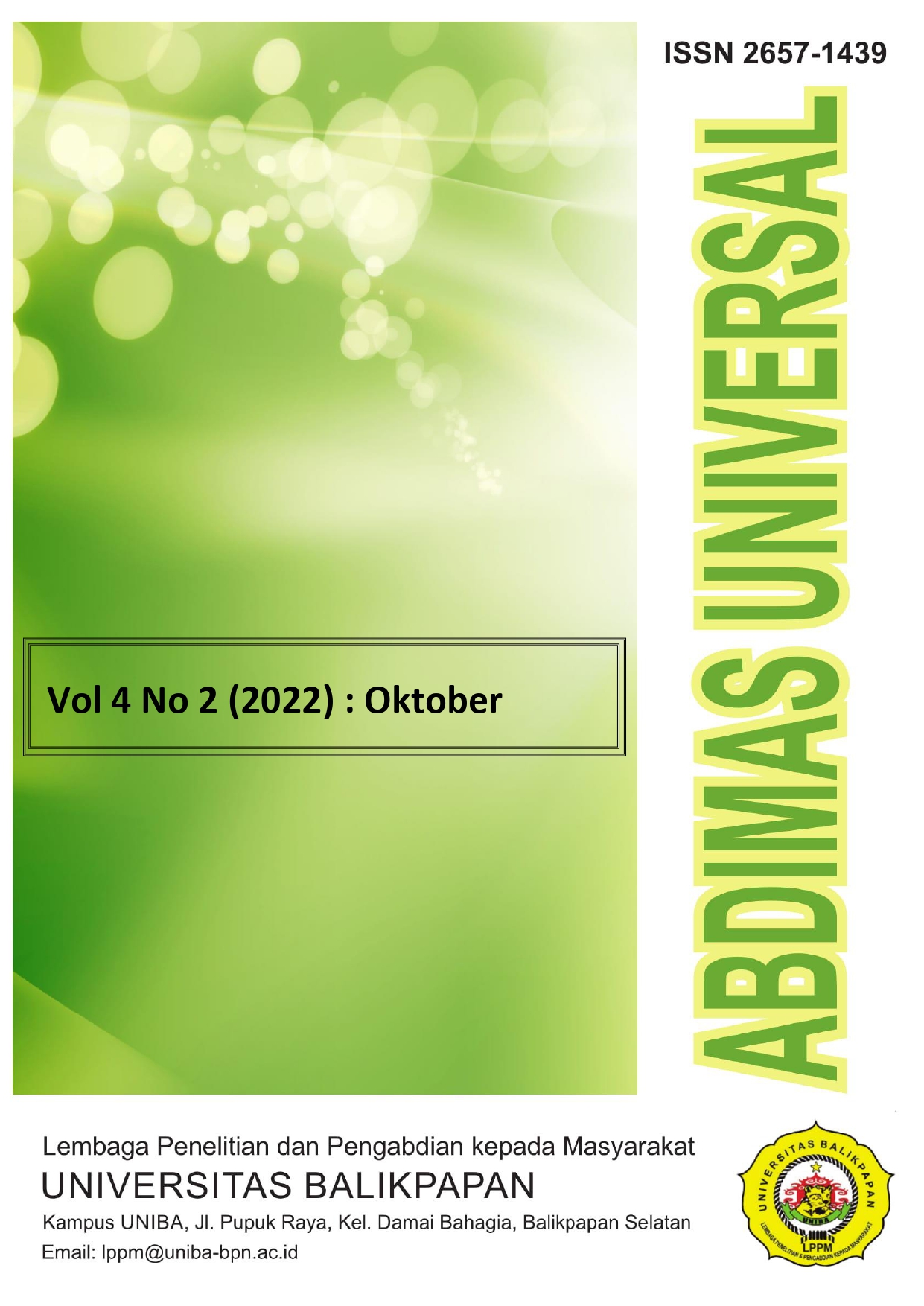 Downloads
How to Cite
Waskitoningtyas, R. S., Pratama, R. A., & Prasetya, K. H. (2022). Sosialisasi Perkembangan Peserta Didik tentang Perkembangan Emosional dan Moral di RT 49 Sepinggan. Abdimas Universal, 4(2), 246–252. https://doi.org/10.36277/abdimasuniversal.v4i2.236