Penerapan Aplikasi Sistem Informasi Penjualan Menggunakan Barcode
Keywords:
Application, Barcodes, Information Systems, Pharmacy
Abstract
Along with the development of technology, many activities in the trade sector have used sales applications using barcodes. It aims to streamline time and be able to control data on sales and purchases of goods in a type of business. The purpose of this community service activity is to develop a sales information system application using a barcode so that users can easily input sales and purchase data for medicines, easily record stock cards and make reports on goods data as desired by the Baubau City Health Office and BPOM. The subject of this service activity is the owner of the Mentari Medika Pharmacy located in Lowu-Lowu Village, Lea-Lea District, Baubau City. This service activity systematically starts from needs analysis, application design, testing/implementation 1, testing/implementation 2, application \ to users and evaluation of activities and follow-up plans. The results of the activity indicate that after testing the application/implementation 1, it is necessary to add a menu to the application that is made so that application/implementation testing is necessary. In addition, this application is also equipped with a user manual, so that users are helped to operate this application.
Downloads
Download data is not yet available.
References
Anwar, S., Nugroho, I., & Lestariningsih, E. (2013). Perancangan Dan Implementasi Aplikasi Mobile Semarang Guidance Pada Android. Jurnal Dinamik, 20(2), 243541.
Aprilliyawati, E., Hasbi, M., & KKW, A. (2015). Sistem Informasi Persediaan Obat Secara Multiuser pada Apotik Sarwo Sehat Karanganyar. Jurnal TIKomSiN, 2338–4018, 26–33.
Ariyanti, D. (2019). Perancangan dan Implementasi Aplikasi Pendaftaran Online PORKOTA Berbasis Client Server Menggunakan Web dan Android. J-SAKTI (Jurnal Sains Komputer Dan Informatika), 3(1), 35. https://doi.org/10.30645/j-sakti.v3i1.94.
Astuti, P. D. (2013). Perancangan Sistem Informasi Penjualan Pada Apotek Jati Farma Arjosari. Seminar Riset Unggulan Nasional Informatika Dan Komputer, 2(1), 13–18.
Dani, M., & Riki, R. (2016). Perancangan Sistim Aplikasi Apotek Menggunakan Pendekatan Berbasis Objek ( Studi Kasus : Apotek Annisa ). Petik, 2(September), 27–34.
Fauzi, R., Wibowo, S., & Putri, D. Y. (2018). Perancangan Aplikasi Marketplace Jasa Percetakan Berbasis Website. Fountain of Informatics Journal, 3(1), 5. https://doi.org/10.21111/fij.v3i1.1824.
Hardjono, W. (2020). Analisis Efektivitas Rencana Tindak Lanjut. Jurnal AgriWidya, 1(1), 120. http://repository.pertanian.go.id/handle/123456789/10139.
Jamal, A., & Yulianto, L. (2013). Rancang Bangun Sistem Informasi Aplikasi Kasir Menggunakan Barcode Reader Pada Toko Dan Jasa Widodo Computer Ngadirojo Kabupaten Pacitan. Journal Speed – Sentra Penelitian Engineering Dan Edukasi, 5(3), 45–54. http://ijns.org/journal/index.php/speed/article/viewFile/1192/1180.
Jaya, T. S. (2018). Testing IT An Off The Shelf Software Testing Process. Jurnal Informatika Pengembangan IT (JPIT), 3(2), 45–46.http://www.ejournal.poltektegal.ac.id/index.php/informatika/article/view/647/640.
Kirana, C., & Wahdaniyah, R. (2018). Implementasi Aplikasi Alumni Berbasis Mobile Application. Jurnal Edukasi Dan Penelitian Informatika (JEPIN), 4(2), 179. https://doi.org/10.26418/jp.v4i2.25752.
Moerdiyanto. (2020). Teknik Monitoring dan Evaluasi (Monev) dalam Rangka Memperoleh Informasi untuk Pengambilan Keputusan Manajemen. www.juliwi.com
Ningsi, Nurfitria, & Sunyanti, S. (2021). Perancangan e-Marketplace Maswira ( Masyarakat Pesisir berwirausaha ) pada Dinas Pertanian dan Perikanan Kabupaten Bombana. Jurnal Ilmiah Edutic, 8(1), 51–58.
Purnama, B. E., & Winarko, E. (2012). Pengamanan Sistem Data Medis Menggunakan Pola Kriptografi. Bep.Ejurnal.Net, 2006, 29–38. http://bep.ejurnal.net/index.php/conference/article/view/72/59.
Simarmata, J. (2010). Rekayasa Perangkat Lunak. ANDI Publisher.
Sudarman, L., Jejen, L., Lelawatty, P., Teheni, M. T., Sari, M., Ode, W., & Azriani, F. (2022). Aplication Development and It ' s Aplicated in Yasmin Store of Buton Sentral Distric. Jurnal Pengabdian Masyarakat Borneo, 6(3), 233–240.
Utami, T., & Purnama, B. E. (2014). Pembangunan Sistem Informasi Penjualan Obat Pada Apotek Punung. IJMS Indonsian Journal on Medical Science, 9330(1), 1–7.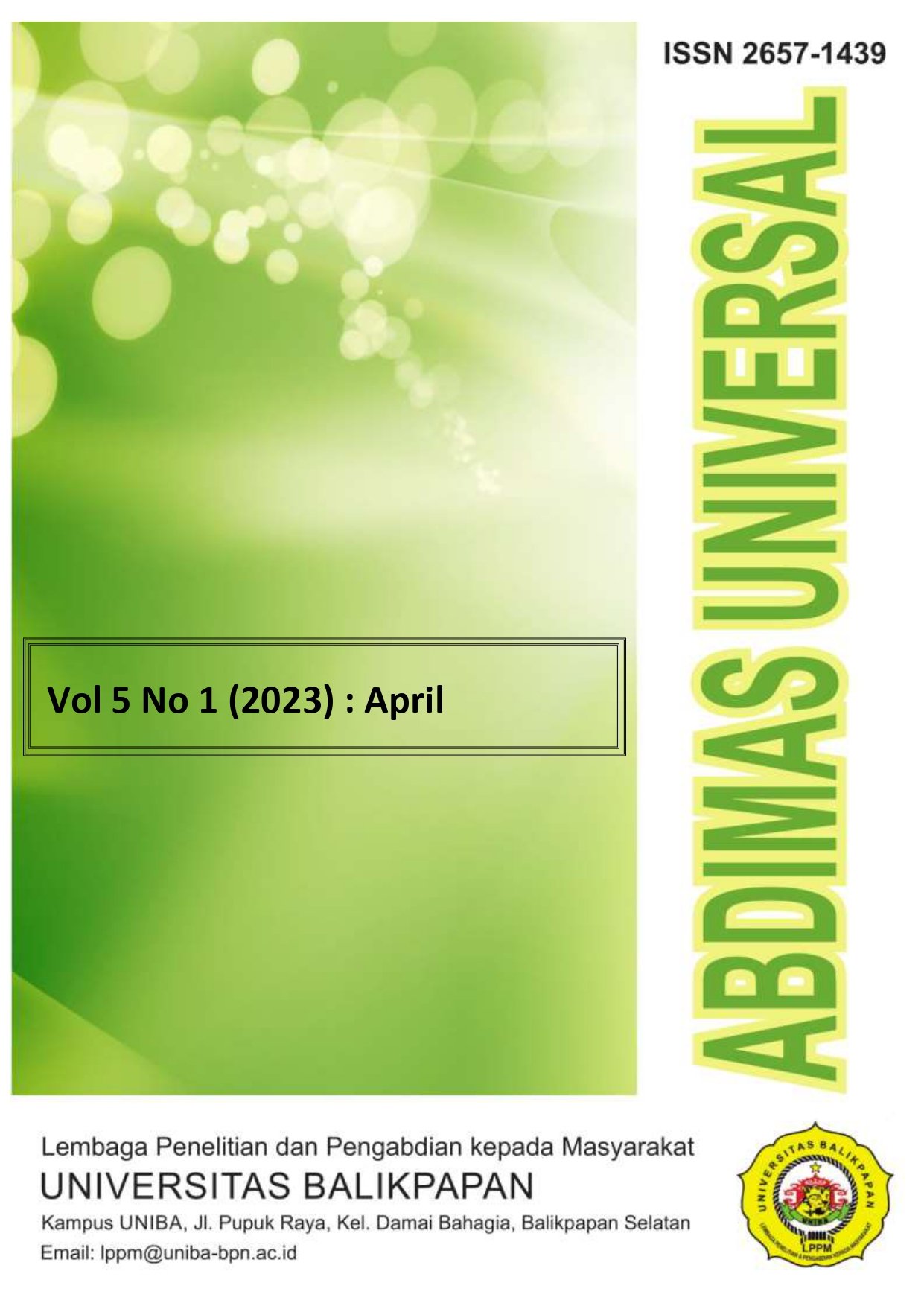 Downloads
How to Cite
Darman, L. S., Jejen, L., Teheni, M. T., & Sarimuddin, S. (2023). Penerapan Aplikasi Sistem Informasi Penjualan Menggunakan Barcode . Abdimas Universal, 5(1), 55–61. https://doi.org/10.36277/abdimasuniversal.v5i1.262