Alternatif Penanggulangan Bencana Banjir dengan Penerapan Teknologi Biopori di Desa Molingkapoto
Keywords:
biopore, compost, flood
Abstract
Indonesia is one og the countries with a high precipitation. The high precipitation and lack of water catchment areas resulted in flooding. This community service aims to improve the quality of the environment by applying biopore technology as an alternative to flood control in the Malingkapoto Village area, Kwandang District, North Gorontalo Regency. Biopore technology is not only for flood prevention, but can be used as a composting technology. The result of this service activity is that 30 biopore have been installed at several points prone to the largest puddles of water due to high precipitation. This activity is in accordance with what has been planned, such as: increasing community knowledge and skills in flood management, provide business opportunities for biopore pipes and compost fertilizers, and support the local government of Gorontalo Regency in dealing with environmental problems.
Downloads
Download data is not yet available.
References
Badan Pusat Statistik. (2022). Kabupaten Gorontalo Utara Dalam Angka 2022. In BPS Kabupaten Gorontalo Utara (Ed.), BPS Kabupaten Gorontalo Utara. BPS Kabupaten Gorontalo Utara.
Findayani, A. (2015). Kesiap Siagaan Masyarakat Dalam Penanggulangan Banjir Di Kota Semarang. Jurnal Geografi : Media Informasi Pengembangan Dan Profesi Kegeografian, 12(1), 102–114.
Hutapea, S., & Aziz, R. (2018). Waste Management with the Technology of Biopore Hole Absorption ( LRB ) Based on Biochar in Medan , Indonesia. IOSR Journal of Environmental Science, Toxicology and Food Technology (IOSR-JESTFT), 12(2), 77–82.
Khusna, N. I., Amin, S., Efrianinrum, F. Y., & Bashith, A. (2020). The Effect of Using Biopore on Soil Fertility in Karst Area, District of Besuki, Tulungagung Regency. IOP Conference Series: Earth and Environmental Science, 485(1), 100–104.
Kusumawati, W., & Arofiati, F. (2020). Biopori : Alternatif Pencegahan Banjir Melalui Pemberdayaan Masyarakat Pondok Pesantren. Prosiding SEMNAS PPM 2020: Inovasi Teknologi Dan Pengembangan Teknologi Informasi Dalam Pemberdayaan Masyarakat Pasca Covid-19, November 2017, 389–394.
Merta, I. W., Darmanika, I. W. M., & Gifari, R. J. (2022). Penanggulangan Banjir melalui Biopori sebagai Bentuk Pemberdayaan Masyarakat Guna Mewujudkan Desa Siaga Bencana. Jurnal Pengabdian Magister Pendidikan IPA, 5(2), 53–57.
Pudjiastuti, S. R., Hadi, N., & Ilis, N. (2020). The Effect of the Biopore System To Deal With Inundation at The Nurul Huda Islamic Boarding School, Cimanggis, Depok. Journal of Community Engangement, 2(1), 6–10.
Ruslinda, Y., Aziz, R., Arum, L. S., & Sari, N. (2021). The Effect of Activator Addition to the Compost with Biopore Infiltration Hole (BIH) Method. Jurnal Ilmu Lingkungan, 19(1), 53–59.
Sukri. (2022). Puskesmas Molingkapoto Jadi Langganan Banjir. https://pojok6.id/puskesmas-molingkapoto-jadi-langganan-banjir/
Suyatman, R. (2022). Banjir Rendam 40 rumah di Kabupaten Gorontalo. https://www.bnpb.go.id/ berita/banjir-rendam-40-rumah-di-kabupaten-gorontalo.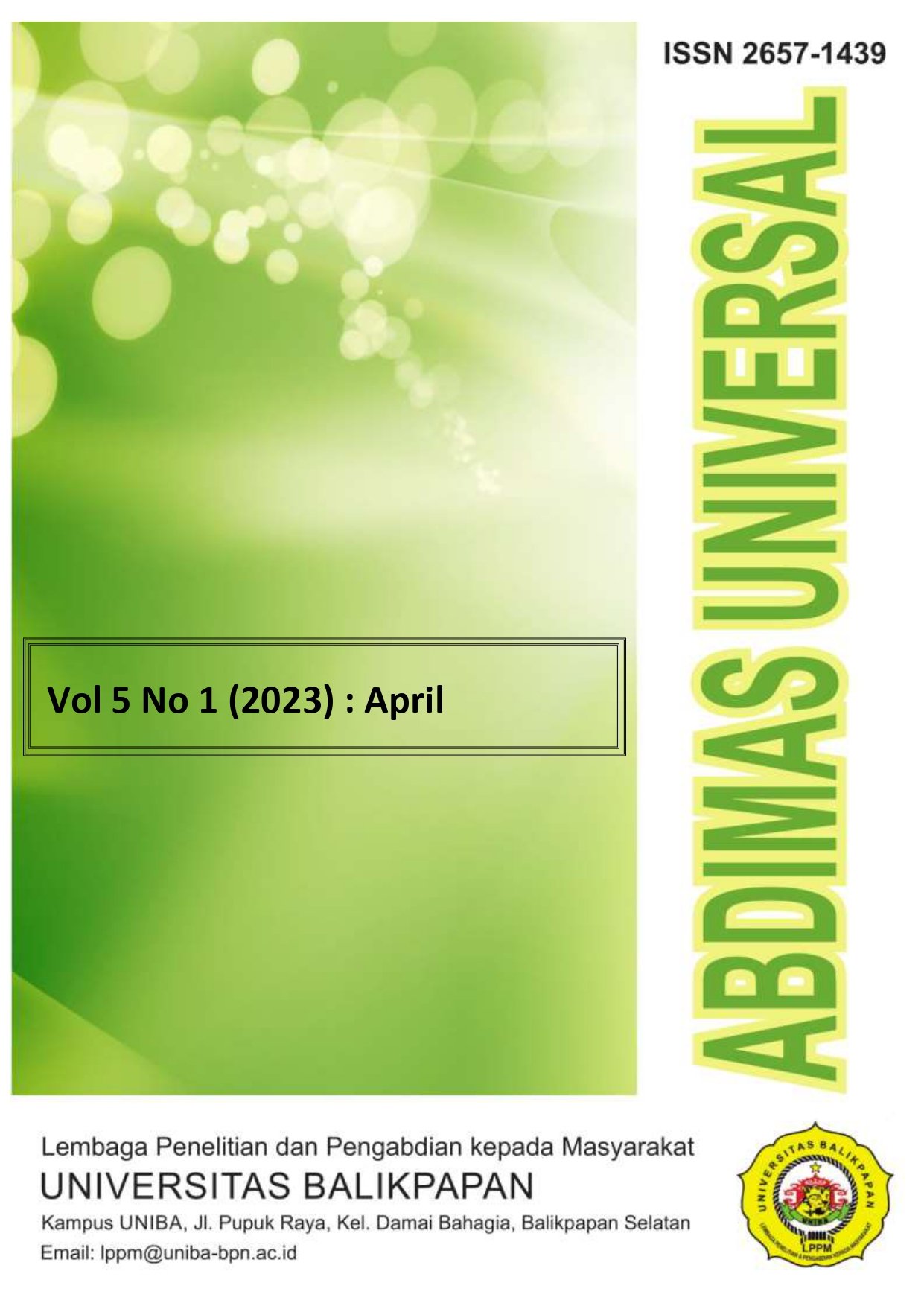 Downloads
How to Cite
Badu, R. R., Lukum, W., Tahir, M. R., Prasetyo, A., Ibrahim, I. N., Yusuf, F., Ansiska, S., Putra, M. N. P., Doe, S. S., Gani, I. R., Payuyu, N., Buako, S. F., Gobel, A., & Rasid, N. (2023). Alternatif Penanggulangan Bencana Banjir dengan Penerapan Teknologi Biopori di Desa Molingkapoto. Abdimas Universal, 5(1), 75–79. https://doi.org/10.36277/abdimasuniversal.v5i1.266