Pelatihan Analisis dan Desain Sistem Informasi Menggunakan Unified Modeling Language (UML) di SMK Pelita Madani Kabupaten Pringsewu
Keywords:
Design, Information System, UML
Abstract
Information system design is a stage of creating an information system. Based on the SDLC stages globally, the design is at stage 5. In the development of object-oriented programming techniques, a standardized modeling language for the development of software/information systems built using object-oriented programming techniques. the Unified Modeling Language (UML) emerged because of the need for visual modeling to specify, describe, build, and documentation of software systems/information systems. The Unified Modeling Language (UML) performs modeling in designing software systems/information systems. The purpose of this training is to implement the knowledge of lecturers to the community (students) by providing training in analyzing UML-based information systems in SMK Pelita Madani Pringsewu, with supporting tools using Star Uml. In the PKM was attended by 27 students of class XII, the participants get information system analysis and design materials, such as: Use Case Diagram, Activity Diagram, Sequence Diagram and class Diagram. The implementation of this training provide results: increasing the ability of participants to create business processes using Star Uml tools in the process of making applications / information systems.
Downloads
Download data is not yet available.
References
Ari & Kholid. (2021) Impelentasi Object Oriented Metodologi dan UML pada Pengembangan Sistem Informasi Keuangan Organisasi. AUTOMATA, 2(2). 1-8.
Aoun, J.E. (2017). Robot-proof: higher education in the age of artificial intelligence. US: MIT Press.
Comptia. (2018). IT industry outlook. https://www.comptia.org/resources/it-industry-trends-analysis.
Dimyati, & Mudjiono. (2015). Belajar dan Pembelajaran. Jakarta : Rineka Cipta.
F. A. Alijoyo. (2021). Risk Management Implementation in Public Sector Organizations-Global Phenomena. Int. J. Curr. Sci. Res. Rev., 04(03), 195–202. doi: 10.47191/ijcsrr/v4-i3-07.
Haviluddin. (2011). Memahami Penggunaan UML (Unified Modelling Language). Memahami Penggunaan UML (Unified Modelling Language), 6(1), 1–15. https://informatikamulawarman.files.wordpress.com/2011/10/01-jurnal- informatika-mulawarman-feb-2011.pdf.
Julianto, S., & Setiawan, S. (2019). Perancangan Sistem Informasi Pemesanan Tiket Bus Pada Po. Handoyo Berbasis Online. A 3(2), 11–25. https://journal.amikmahaputra.ac.id/index.php/JIT/article/view/56/48.
Kasman, H. (2017). Perancangan Sistem Informasi Nilai Siswa Berbasis Web. Jurnal Ilmu Komputer Dan Bisnis, 8, 2001–2013.
Lase, D. (2019). Pendidikan Di Era Revolusi Industri 4.0. Sundermann: Jurnal Ilmiah Teologi, Pendidikan, Sains, Humaniora Dan Kebudayaan, 1(1), 28-43.
M. Muslihudin Oktafianto. (2016). Analisis dan Perancangan Sistem Informasi. Yogyakarta: Penerbit Andi.
Mia, dkk. (2021). Pemodelan UML untuk Sistem Informasi Persewaan Alat Pesta. FASILKOM. 11(2),79-86.
Mardhiyah, R.H., Aldriani, S.N.F., Chitta, F., & Zulfikar, M.R. (2021). Pentingnya Keterampilan Belajar di Abad 21 sebagai Tuntutan dalam Pengembangan Sumber Daya Manusia. Lectura: Jurnal Pendidikan, 12(1).
Miradj, S., & Sumarno, S. (2014). Pemberdayaan masyarakat miskin, melalui proses pendidikan nonformal, upaya meningkatkan kesejahteraan sosial di Kabupaten Halmahera Barat. JPPM (Jurnal Pendidikan dan Pemberdayaan Masyarakat), 1(1), 101-112.
Ningrum, E. (2016). Pengembangan sumber daya manusia bidang pendidikan. Jurnal Geografi Gea, 9(1), 1-9
Prasetya, A.F., Sintia & Putri, U.LD. (2021). Perancangan Aplikasi Rental Mobil Menggunakan Diagram UML (Unified Modelling Language). Jurnal Ilmiah Komputer Terapan dan Informasi (JIKTI) 1(1),14-18.
Setiaji & Ricki Sastra. (2021). Implementasi Diagram UML Sistem Informasi Penggajian. AMIK BSI 7(1), 106-111.
S. Sutejo. (2016). Pemodelan UML Sistem Informasi Geografis Pasar Tradisional Kota Pekanbaru. Digit. Zo. J. Teknol. Inf. dan Komun., 7(2), 89–99. doi:10.31849/digitalzone.v7i2.600.
Sugiarto, Pratama Wirya Atmaja, Aswin Rosadi, Tentra Olivia. (2021). Analisis Sistem Prestasi Mahasiswa UPN Veteran Jawa Timur berbasis Unified Modelling Language. Seminar Nasional Sains Data 2021 (SENADA 2021) UPN "Veteran" Jawa Timur. E-ISSN 2808-5841.
S. Syamsuar & R. Reflianto. 2019. Pendidikan dan tantangan pembelajaran berbasis teknologi informasi di era revolusi industri 4.0. E-Tech J. Ilm. Teknol. Pendidik, 6(2).
Wijaya, E. Y., Sudjimat, D. A., Nyoto, A., & Malang, U. N. (2016). Transformasi pendidikan abad 21 sebagai tuntutan pengembangan sumber daya manusia di era global. In Prosiding Seminar Nasional Pendidikan Matematika. 1(26), 263-278.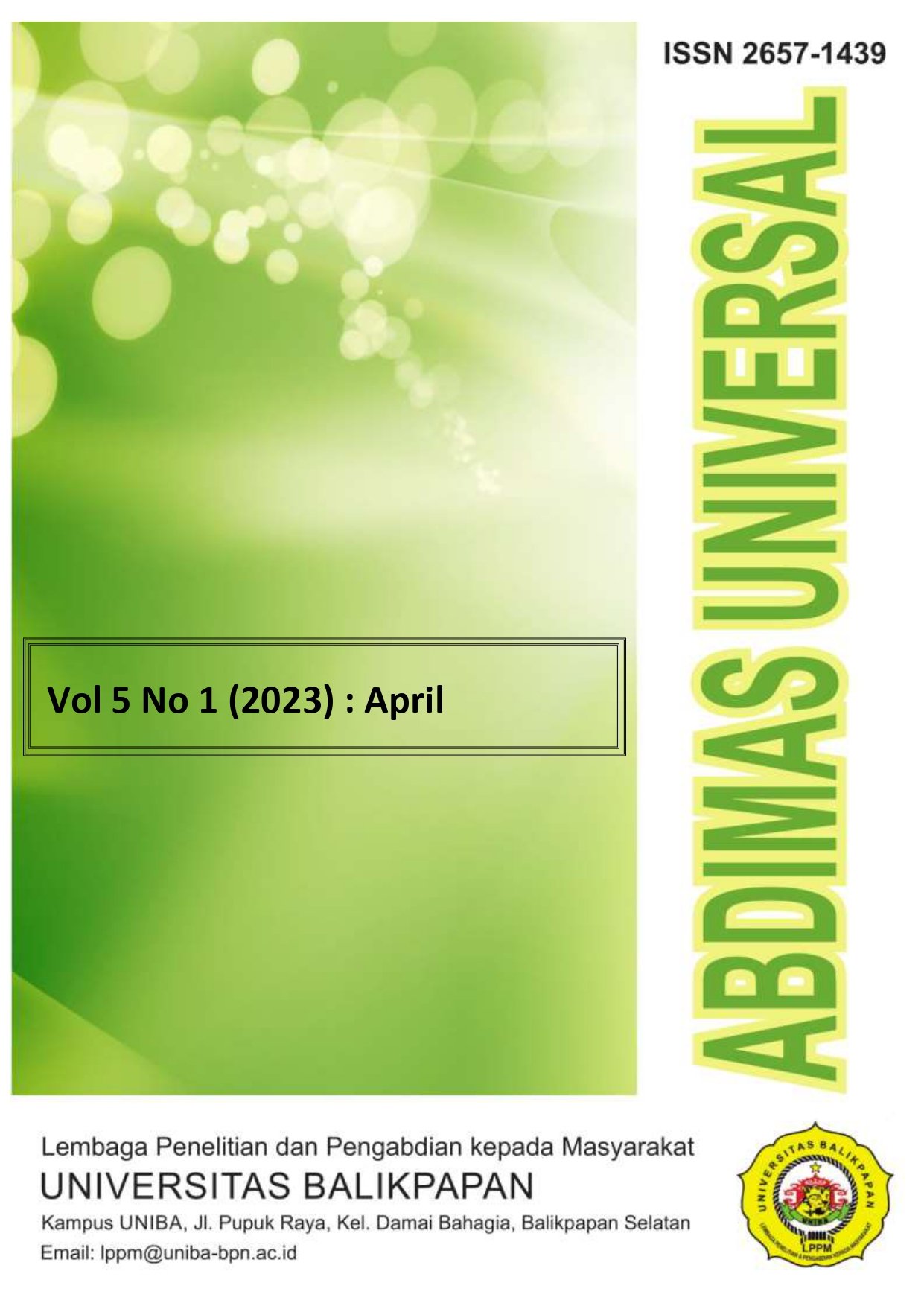 Downloads
How to Cite
Ardhy, F., Fernanda, F. E., Kurnia, U. I., Alfina, A., Salimu, S. A., Wassalam, O. J. F., Ratnasari, R., Aminudin, N., & Pratama, R. Y. (2023). Pelatihan Analisis dan Desain Sistem Informasi Menggunakan Unified Modeling Language (UML) di SMK Pelita Madani Kabupaten Pringsewu. Abdimas Universal, 5(1), 97–104. https://doi.org/10.36277/abdimasuniversal.v5i1.285