Pelatihan Pembuatan Nugget Kelor sebagai Alternatif Pemberian Makanan Tambahan (PMT) Anak Balita
Keywords:
Toddlers, Moringa Nuggets, Supplementary Feeding
Abstract
Moringa leaf processing has not been widely carried out in Indonesia. This is due to the lack of public knowledge in utilizing Moringa leaves and the community does not know Moringa leaves as a source of food. Moringa leaves are a natural ingredient with a high nutritional content is also an option to provide additional food for toddlers. This service activity is carried out to increase public knowledge about the importance of nutritious food for children and provide training on making naget from Moringa leaves as an additional food for toddlers. This method of activity is through counseling and training in making Moringa nuggets. This community service provides a change in perspective and increases mothers' knowledge in making supplementary food for toddlers sourced from local food. One of this series of devotions is to train mothers to make breast milk complementary foods and healthy snacks easily and simply but with high nutritional value and hygienic. This service activity has a positive impact on the community, where mothers can do it independently at home about how to make complementary foods and healthy snacks for their children.
Downloads
Download data is not yet available.
References
Abdullah, A. R., Wahyuni, F., Nurcahyani, I. D., & Musdalifah, S. (2021). The Influence Of Cookies With The Addition Of The Slurry Flour On The Weight Of The Toddler Weight Ages 2-5 Years With Less Nutritional Status Based On BB/TB In The Working Area Of Bontoa Puskesmas Yaer.
Angelina, C., Swasti, Y. R., & Pranata, F. S. (2021). Peningkatan nilai gizi produk pangan dengan penambahan bubuk daun kelor (Moringa oleifera). Jurnal Agroteknologi, 15(01), 79-93.
Beal, T., Tumilowicz, A., Sutrisna, A., Izwardy, D., & Neufeld, L. M. (2018). A review of child stunting determinants in Indonesia. Maternal & child nutrition, 14(4).
Dewi, F. K., Suliasih, N., & Garnida, Y. (2016). Pembuatan Cookies Dengan Penambahan Tepung Daun Kelor (Moringa Oleifera) pada Berbagai Suhu Pemanggangan. Universitas Pasundan Bandung, 1–21.
Kemenkes RI. (2018). Hasil Utama RISKESDAS 2018. Kementerian Kesehatan Republik Indonesia.
Musa, S. P. N., Fauzia, F. R., Gz, S., Ansokowati, A. P., & Gz, S. (2022). Pengaruh pmt nugget daun kelor (Moringa Oleifera) terhadap perubahan berat badan pada balita di posyandu dusun trini desa trihanggo kecamatan gamping sleman (Doctoral dissertation, Universitas Aisyiyah Yogyakarta).
Mustika, W., & Syamsul, D. (2018). Analisis Permasalahan Status Gizi Kurang Pada Balita di Puskesmas Teupah Selatan Kabupaten Simeuleu. Jurnal Kesehatan Global, 1(3), 127–136.
Rahmawati, P.S., Adi, A.C. (2017). Daya Terima dan Zat Gizi Permen Jeli Dengan Penambahan Bubuk Daun Kelor (Moringa oleifera). Media Gizi Indonesia. 11, 86.
Patimah, Sitti. (2021). Stunting Mengancam Human Capital. Yogyakarta: Deepublish.
Schwarzenberg, S. J., Georgieff, M. K., Daniels, S., Corkins, M., Golden, N. H., Kim, J. H.,& Magge, S. N. (2018). Advocacy for improving nutrition in the first 1000 days to support childhood development and adult health. Pediatrics, 141(2).
Singh, Y., & Prasad, K. (2013). Moringa Oleifera Leaf as Functional Food Powder : Characterization and Uses, 4, 317–324.
Soetjiningsih & Ranuh, I.N.G. (2015). Tumbuh Kembang Anak. Edisi ke-2. Jakarta: EGC.
Supariasa. (2012). Pendidikan dan Konsultasi Gizi. Jakarta : EGC.
Wamani, H., Åstrøm, A. N., Peterson, S., Tumwine, J. K., & Tylleskär, T. (2007). Boys are more stunted than girls in sub-Saharan Africa: a meta-analysis of 16 demographic and health surveys. BMC pediatrics, 7(1), 1-10.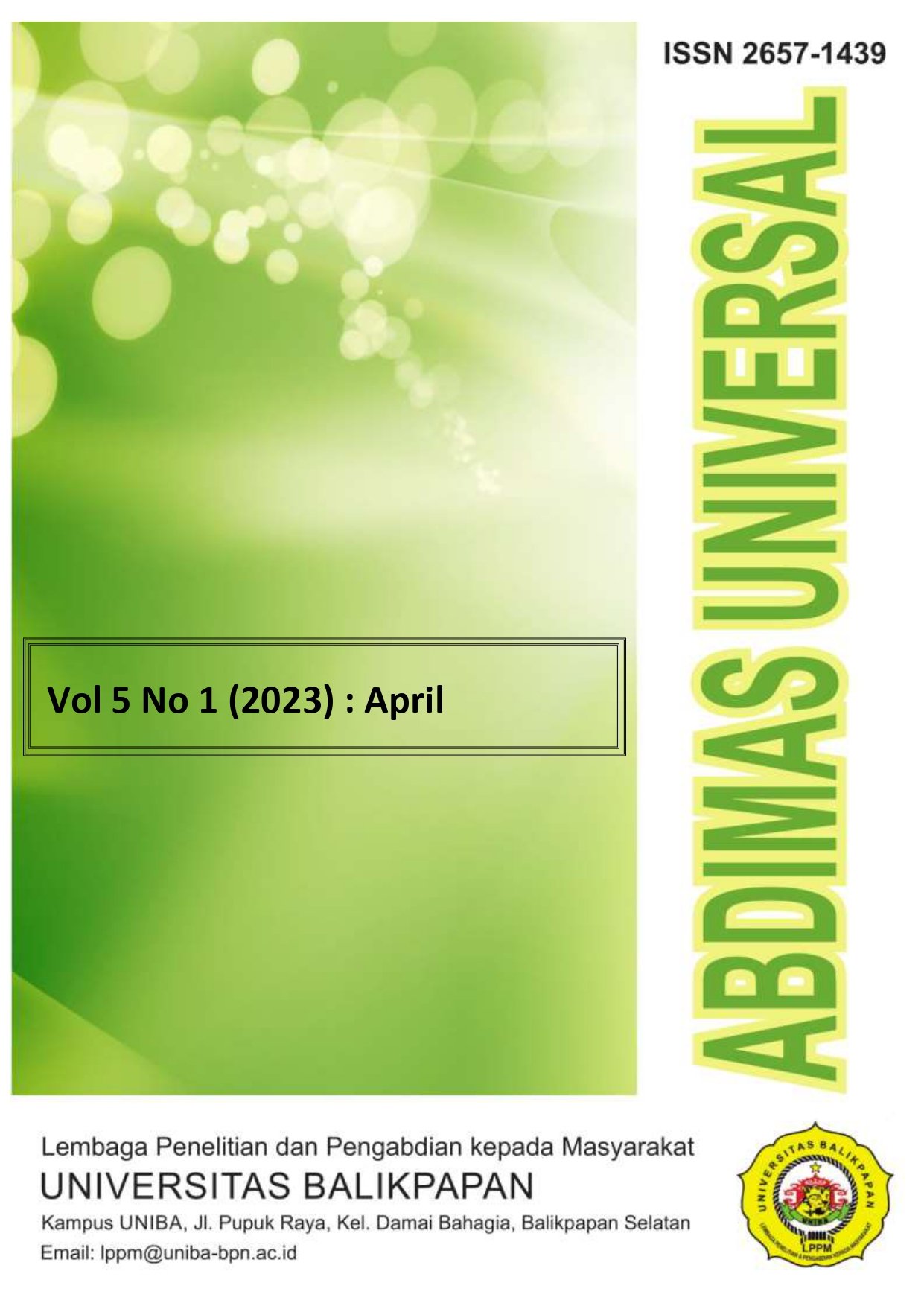 Downloads
How to Cite
Trisnawati, R. E., Kurnia, L., & Kawu, M. F. (2023). Pelatihan Pembuatan Nugget Kelor sebagai Alternatif Pemberian Makanan Tambahan (PMT) Anak Balita. Abdimas Universal, 5(1), 92–96. https://doi.org/10.36277/abdimasuniversal.v5i1.287