Pengabdian Masyarakat dengan Meningkatkan Minat Belajar pada Anak SDN 02 Babakanraden Melalui Metode Pembelajaran Kuis Interaktif
Keywords:
interactive quiz, education, teaching
Abstract
Community service is intended so that childrens can be independent in everyday learning and can increase their interest in learning. The methods used are: 1) learning assistance, 2) quiz, 3) test/practice questions, and 4) interaction/question and answer. The results of this activity shows that children are comfortable, increasing their intention to study and happy when learning, both with learning materials, subjects,  or with quiz interactive learning methods.
Downloads
Download data is not yet available.
References
Dewimarni, Ulhusna, & Marhayati (2022). Penerapan Aplikasi Kahoot Pada Mata Pelajaran Matematika Untuk Meningkatkan Motivasi Dan Minat Belajar Siswa Dikelas VII SMP Negeri 38 Padang. Jurnal Pengabdian Kepada Masyarakat, 1(8), 1935- 1940.
Indriani, et al. (2015). Pengembangan Kuis Interaktif Tipe True/False untuk Melatih Kemampuan Eksplorasi Fenomena Fisika. Jurnal Pembelajaran Fisika, 3(1).
Insani, S. U., & Akbar, P. (2019). Development of Open-Ended Based Mathematics Problem to Measure High-Level Thinking Ability. Journal of Physics: Conference Series, 1315,(1).
Meryansumayeka & Aisyah. (2018). Pengembangan Kuis Interaktif Berbasis E-Learning Dengan Menggunakan Aplikasi Wondershare Quiz Creator Pada Mata Kuliah Belajar Dan Pembelajaran Matematika. Journal Pendidikan Matematika, 12(1), 29–42, www.e-learning.unsri.ac.id.
Qodriani, Asrori, & Rusman (2022). Implementasi Metode Pembelajaran Kuis Interaktif Berbasis Mentimeter pada Mata Pelajaran Pendidikan Agama Islam. 7(2). 9689, DOI: 10.25299/ al-thariqah.2022.
Rauf, Saidah. & Olla M.B (2023). Pelatihan Cerdas Berinternet untuk Mengurangi Adiksi Internet pada Siswa Madrasah Tsanawiyah. TOMAEGA Jurnal Pengabdian Masyarakat. https://ojs.unanda.ac.id/index.php/tomaega/article/view/1696.
Santoso, A., & Rusmawati, Y. (2019). Pendampingan Belajar Siswa di Rumah Melalui Kegiatan Bimbingan Belajar di Desa Guci Karanggeneng Lamongan. Jurnal Abdima Berdaya: Jurnal Pembelajaran, Pemberdayaan dan Pengabdian Masyarakat, 2(02).
Suriani, S., & Yusnadi, Y. (2019). Faktor-Faktor Penyebab Rendahnya Minat Belajar Warga Belajar Paket C Di Kelompok Belajar Kemuning Desa Asahan Mati Kecamatan Tanjungbalai Kabupaten Asahan. Journal of Millennial Community, 1(1), 1-3.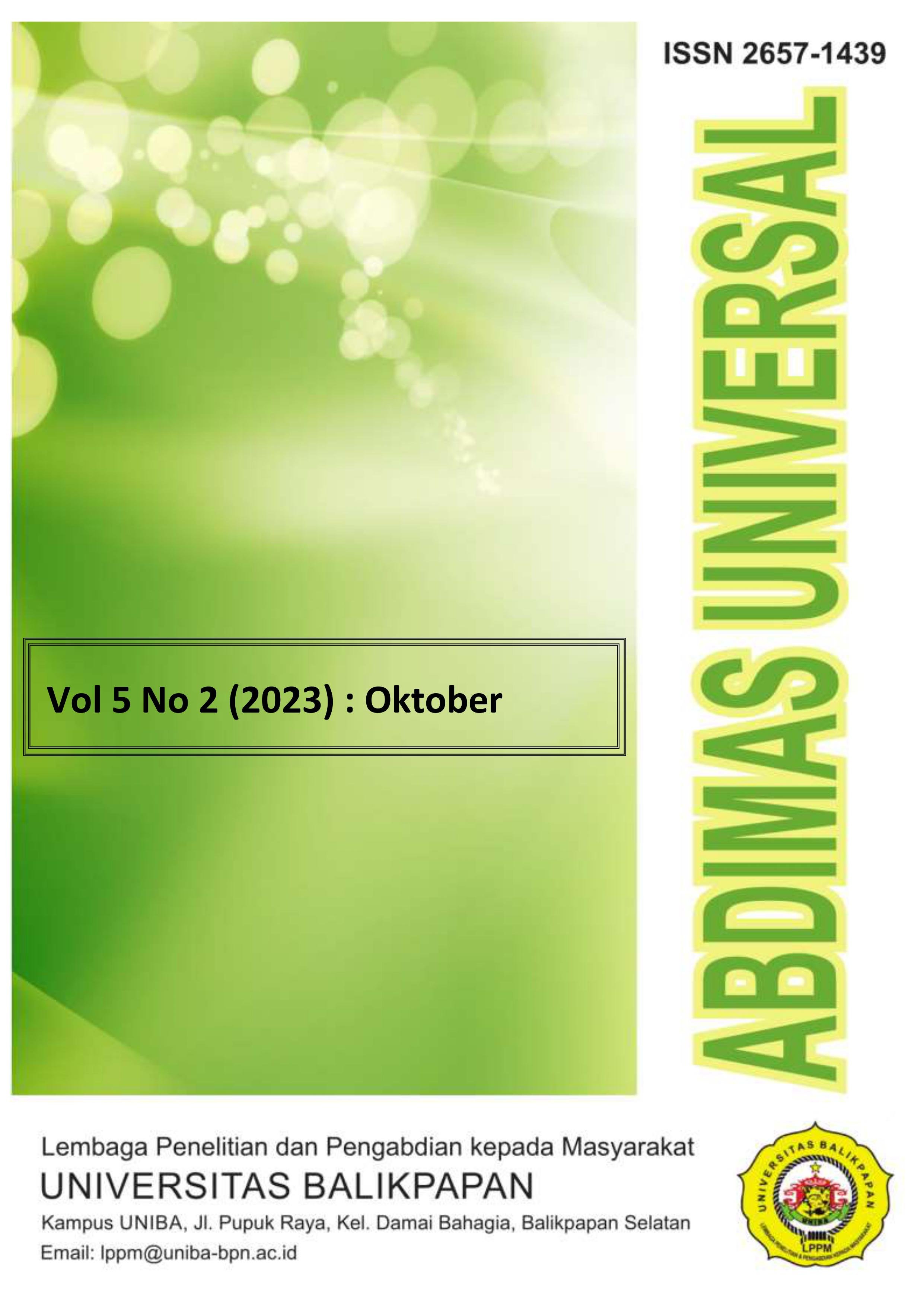 Downloads
How to Cite
Paramitra, Y., Rahmawantari, D. M., Jordan, J., Fauzi, M., Hotmaruli, R., & Herbayu, T. (2023). Pengabdian Masyarakat dengan Meningkatkan Minat Belajar pada Anak SDN 02 Babakanraden Melalui Metode Pembelajaran Kuis Interaktif. Abdimas Universal, 5(2), 205–210. https://doi.org/10.36277/abdimasuniversal.v5i2.312