Sosialisasi dan Pelatihan Pembuatan Alat Penyaring Air dengan Media Karbon Aktif Peruntukan Rumah Tangga
Keywords:
Keywords: Water Purifier, Activated Carbon, Household.
Abstract
Socialization and training in making water filter devices with activated carbon for household purposes, 1Widya Mulya, 2Maslina, 3Lina Yuliana, University of Balikpapan, Pupuk Raya Street Gunung Bahagia, Balikpapan City, the burden of impurities on the river increases, resulting in an increase in the processing burder on water tratment plants, so that the quality of water received by the community sometimes decreases such as smelly, colored and turbid, so community service is conducted regarding the socialization and training of water purifier manufacture with activated carbon media household designation. The lecture method was chosen to provide an explanation, the question and answer method is very important for participants both when receiving an explanation and understanding, this simulation method is very important given to participants to provide opportunities to practice the lecture material obtained on how to make activated carbon from a coconut shell, how to manufacture a water filter equipped with activated carbon for household purposes. The results of the manufacture of activated carbon include containers/ cans on the lid are given a few holes, coconut shell as raw meterial for making activated carbon cleaned from fibers, burn containers/ cans containing coconut shell (which is tightly closed) until the embers of combustion are almost gone. the results of the manufacture of water purification equipment, using a 600 ml drink bottle was given a hole for the inlet and outlet of water, at the bottom inserted 5 cm thick a activated carbon then covered by a 5 cm thick cotton layer. In this activity in charcoal can be done by boiling, for the thickness of the media if thicker will make the water quality clearer.
Keywords: Water Purifier, Activated Carbon, Household.
Downloads
Download data is not yet available.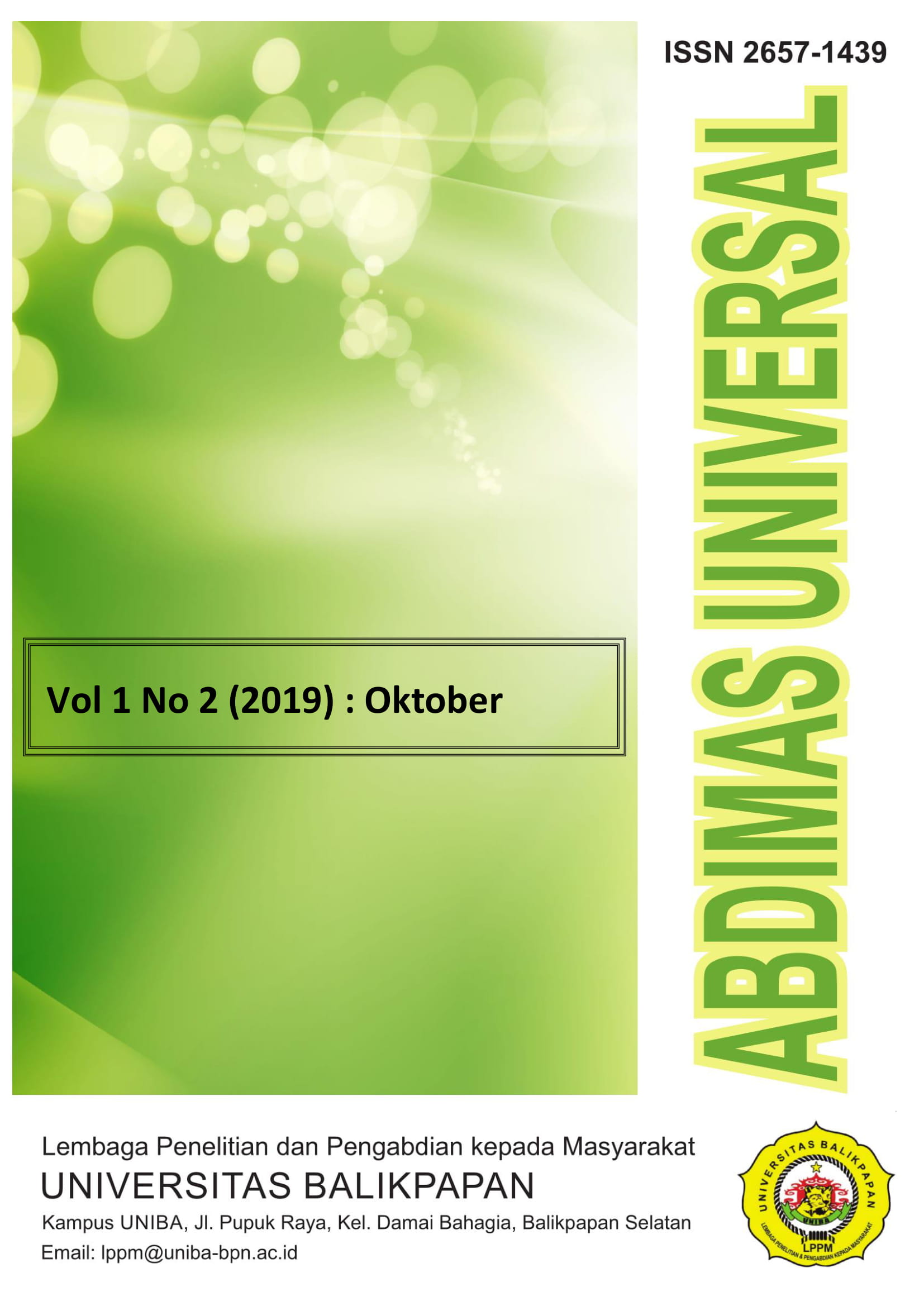 Downloads
How to Cite
Mulya, W., Maslina, M., & Yuliana, L. (2019). Sosialisasi dan Pelatihan Pembuatan Alat Penyaring Air dengan Media Karbon Aktif Peruntukan Rumah Tangga. Abdimas Universal, 1(2), 50–55. https://doi.org/10.36277/abdimasuniversal.v1i2.43